Google Plus
From IndieWeb
This article is a stub. You can help the IndieWeb wiki by expanding it.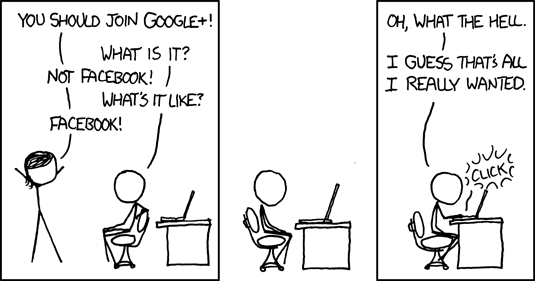 Google+ (AKA Google Plus, GPlus, or G+) is both a social content hosting silo operated by Google, similar in many respects to Facebook, and a centralized Google identity service for other Google services like YouTube.
Google has integrated Google+ across many of their services, e.g. even Google's search shows a toolbar for it when signed into Google+.
API
Google+ has a proprietary read API.
+1 Button
Google+ allows you to put a "+1" button on any page that when clicked, does a "+1" (similar to a like) of your page, inside Google+, on the Google+ profile of whoever clicked the button.
Activities
Google+ has a proprietary Activities API that is based on (but not actually) ActivityStreams:
Exporting your data
Google Takeout lets you download a zip with all of your Google+ posts, comments, pictures, etc. It's not linked directly from anywhere within Google+, and doesn't come up as a first search result for common queries, but works fantastically (if a bit slow).
freedom.io (source) can copy all of your posts to WordPress, Tumblr, or Blogger, creating a new blog post for each, with the original dates and all comments intact.
POSSE
How to POSSE to
There's currently no good way to automatically POSSE to Google+. Here are the (bad) options:
Background
There is some evidence that Google+ "+1"s on links affect their search ranking:
POSSEing links of your posts to Google+ may help increase +1s on them and thus increase their search ranking.
IndieWeb Examples
Will Norris
In Outsourcing comments to Google+, 2011 IndieWebCamp participant Will Norris explains how he uses
to manually create links to his blog posts on Google+ where he then accepts comments (instead of comments on his own blog).
This isn't a full POSSE implementation (which would be cross-posting the entirety of the contents of your blog posts to G+ posts), but rather just a way to manually share links/summaries of your original posts onto G+, similar to POSSEing articles to Twitter.
Kartik Prabhu
Manually POSSEs posts and replies to Google+
Google+ does not have URL permalinks for replies but does have an id attribute in the div. I copy the id to generate a syndication URL for my replies. Of course, G+ is kind enough to use javascript and ignore the id in the URL when the page is visited!
Brainstorming
Events
Anecdotally there seems to be more interaction on G+ event posts than simple text posts.
If we can figure out a way to automatically create event posts on G+, it might be worth POSSEing indieweb event posts to G+.
Searchability
It's not obvious how to best publish/POSSE to or comment on G+ in a way that is most easily searchable / findable. Here are some tips:
only post public posts to G+
...
Issues
Lack of comment permalinks
Comments on Google+ lack their own permalinks, making it very difficult to reference a part of a conversation on a Google+ post.
It's apparently a "Known feature request that's never made it to the head of the priority queue." according to:
See also:
Similarly when asked at the 2013 Google I/O conference, Google+ representatives relayed the same message that it's a known feature request and there are still no plans for it.
Occasional IndieAuth login problems
Ben Roberts had used Google+ for login via IndieAuth primarily until there were intermittent failings due to errors in redirects. For example https://plus.google.com/113259788317081930920/posts redirects to https://plus.google.com/+BenRoberts83/posts but Google will occasionally change/break this routing.
See Also