User:Hupili.net
From IndieWeb
HU, Pili
Tools Related with IndieWeb
My Setup
Silos I'm using regularly:
Aggregation and distribution points on my site:
Following is a visualization of my silo setups.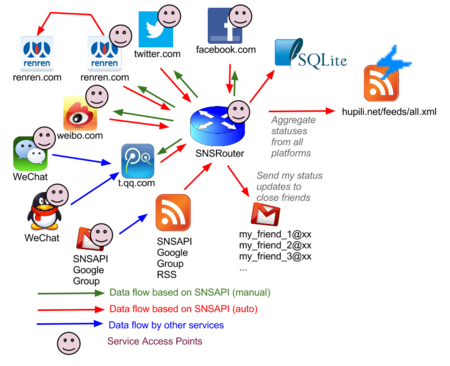 More detailed description and updated figure can be found at the article: http://blog.hupili.net/articles/silo.html
My IndieWeb Related Articles
About IndieAuth
(I have not find a proper location for this piece of comments; feel free to move)
The IndieAuth model is interesting. I think the essence is to decouple ID provider and ID verifier. The two components were often binded in previous models, which is not natural in our real life. Consider a real-world example: I want to make friends with A and A want to make sure whether I'm me before that. It's very absurd for me to show A my ID card. Instead, there may be a B who has verified me some time ago (by looking at my ID or through a longer chain of trust). In B 's mind, my ID and my face have been binded. Using this information, B can come to tell A that I am indeed me.