plaintext
Jump to navigation
Jump to search
This article is a stub. You can help the IndieWeb wiki by expanding it.
Displaying HTML content from external sites (feeds, webmention, etc.) posses a security risk.
Prefer plaintext. What does this mean though? Stirpping HTML? Encoding it?
Whats the right way to sanitize external content?
Converting to plaintext mean loss of context (links, microformats, etc.). how do we deal with this?

Here is an example of loss of context
To me (sandeepshetty) this is not acceptable. This is why I prefer syndicating Markdown (or a similar replacement) over HTML to Twitter and will also consider doing the same with (hidden) p-* properties of h-entry on http://sandeep.io.
Apart from markdown, machinetags could also be used to provide context.

Almost all social networks (tiwtter, facebook, google+) support only plaintext content as opposed to blogs that primarily used HTML.
Tips
If you are expecting plaintext always encode it while displaying (using something like htmlentities?)
Experiments
sandeepshetty is currently experimenting with machinetags for providing context to reposts. The idea is to provide a rich repost UX to a post that has machinetags (that are generated from a reposting interface that picks up microformats from the original post).
The idea is to convert post content like this:
#repost:url=http://werd.io/view/51aee6c2bed7de0916753f55
#repost:content="Understanding pump.io: [http://slid.es/evanp/understanding-pumpio](http://slid.es/evanp/understanding-pumpio) Convinced this is an [important idea](https://e14n.com/evan/note/XAkJtSFCQCWgLtxHMvhcCQ), and an important project - and [the software kicks ass](http://pump.io/)."
#repost:published="3h"
#repost:author="Ben Werdmuller"
#repost:author_url=http://werd.io/profile/benwerd
#repost:author_photo=http://werd.io/file/51a7f328bed7de2c06dc5ad8

into something like this: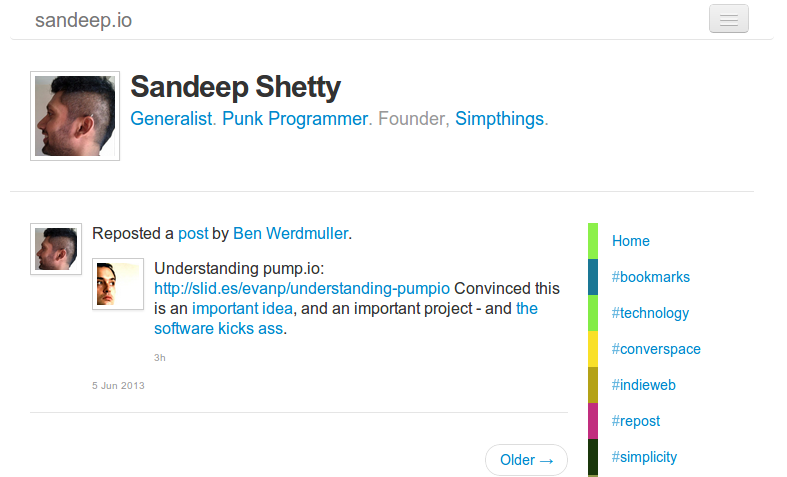 Live implementation: http://www.sandeep.io/36
NOTE: This has evolved into RSSB.
See Also