Facebook Page
Jump to navigation
Jump to search
This article is a stub. You can help the IndieWeb wiki by expanding it.

Facebook Page is a form of identity on Facebook that has its own profile like other identities, and a set of administrators who can take action on Facebook as the identity of that Facebook Page.
Examples
Other examples include brands, companies, etc.
Features
Facebook Page features are similar to but expanded beyond what a Facebook user can do with their own profile.
Events
One particularly useful feature of Facebook Pages is the ability create and post public Event posts as that page, and then administrate those events with other page admins.
This is often done for the POSSE copy of IndieWebCamp related events such as Homebrew Website Club meetups, and IndieWebCamps themselves as well!
Bridgy backfeed can support backfeeding the RSVPs from these page created events to indie events.
... details of how to set this up? ...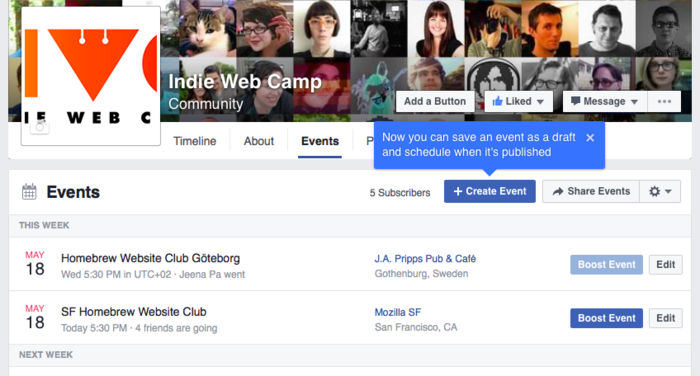 Screenshot of a Facebook Page's "Events" page (tab selected).
Apparently a Facebook Page can also create an event as a draft, and schedule it to be published later per the blue pop-up message in the above screenshot:
Now you can save an event as a draft and schedule when it's published
Pages Feed

One of the more confusing features of Pages are the ability to like other Pages as that Page, and then see a "Pages Feed" of posts from those liked pages. Facebook encourages use of this feature with the blue side-pop message in the above screenshot:
Stay up to date with Pages you've liked as your Page.
Empty Pages Feed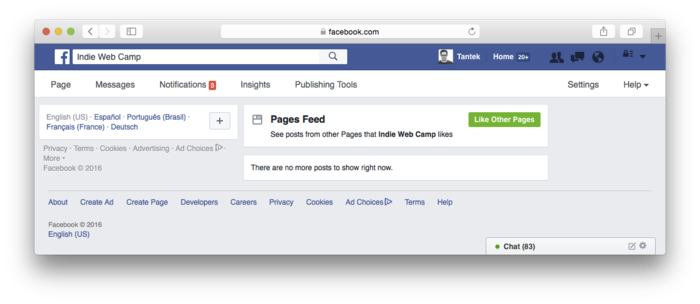 If your page has not liked any pages yet, you get a kind of confusing display of no posts.
See Also