Kapowski
From IndieWeb
Kapowski is a simple app for posting animated GIF photos to your website using Micropub, powered by Giphy search.
Kapowski is written in Node.js and prototyped and hosted on Glitch at https://glitch.com/edit/#!/garrulous-smile.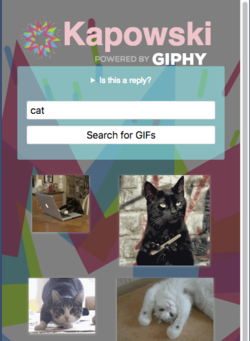 Features
Kapowski supports:
searching Giphy for GIFs
creating photo posts via Micropub
without signing in, users are shown an HTML snippet they can copy/paste to their site.
IndieWeb Examples
People using Kapowski to post to their website:
See Also