Slater
From IndieWeb
This article is a stub. You can help the IndieWeb wiki by expanding it.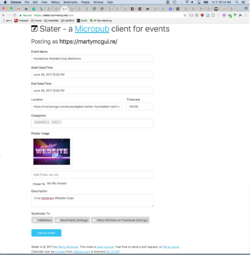 Slater is an app for posting events to your own website using Micropub. It is created by Marty McGuire.
Slater is built on the Python Flask framework and makes use of
Kyle Mahan's flask-micropub library for handling IndieAuth and finding Micropub endpoints.
Features
IndieWeb features that Slater supports:
publishing event (h: event) posts with:
IndieWeb Examples
People using Slater to post to their website:
Marty McGuire

Marty McGuire since 2017-01-16
See Also