sweetroll
From IndieWeb
sweetroll is Greg V's engine that powers their website, unrelenting.technology.
Supports tags, full text search, photos, videos, audio files, reviews, private posts (mostly just for drafts), content warnings, simple realtime notifications (only "this page has changed, refresh it").
Supports only micropub for posting, updating, deleting and undeleting, no custom endpoints.
Includes micro-panel, a micropub-based admin panel.
Documentation
Technical documentation can be found on Read the Docs.
Architecture
Sweetroll consists of:
Pretty much everything in Sweetroll is represented as microformats2 JSON objects, including feed configurations and site settings. (Of course there's no common microformats for that, so it's custom, but stored in the same way.) Stored procedures are used to extract embedded entries (comments, in-reply-to contexts, etc.) into their own records when writing content and to embed them back when reading. And to build feeds.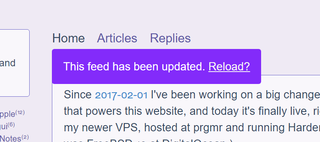 This data-driven feed construction allows the engine to know exactly which feeds would be affected by an entry creation/change. So when an entry is updated, the frontend app would determine that it affected e.g. the home feed, the articles feed and tag feeds for #sweetroll and #web. So the WebSub hub would receive a notification for all these feeds, and browsers currently open to these pages would receive a "reload this" box →
Libraries
The following Haskell libraries were written for Sweetroll:
No longer used: