Gmail
From IndieWeb
This article is a stub. You can help the IndieWeb wiki by expanding it.

Gmail is an email reading, composing, and searching client and service hosted by Google.
In addition to the gmail.com website, there are also Gmail client applications for various platforms (iOS, Android) that connect to the Gmail service.
Backup
If you have experience backing up gmail accounts, please help expand this section!
Gmvault
Gmvault seems to be very simple and straight forward. It's on the command line, so it's scary for some users, but it does a good job of describing what it does. I ( Sebastiaan Andeweg at 2017-01-31) did the following on my Mac, and since I can't remember installing pip, I think this works out of the box:

sudo pip install --upgrade pip
sudo pip install gmvault
gmvault sync example@gmail.com
Gmvault prompts for OAuth, with a description. Press enter to open the browser, and you have to make sure you are logged in at that browser to the Gmail account.
Do the OAuth in de browser and copy the key. Paste it in the Terminal
Gmvault does things! I got 6351 mails out of an old account in 16m 14s. It creates a folder called 'gmvault-db' in your home folder, with (in /db/) folders for every month. In those folders are, per e-mail, an '[id].meta' and an '[id].eml.gz'. The .meta is a JSON with info from Gmail (labels/tags, subject) and the .eml.gz is a gzipped .eml, which is just the plain-text e-mail with all the headers.
Downtime
Gmail is down occasionally, usually only briefly.
If you get a 500 error like this, try again in a few minutes: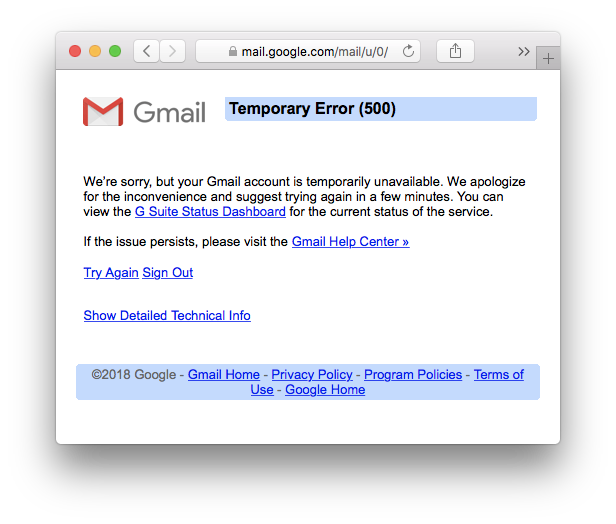 Criticism
Abandons browsers
Gmail seems to abandon browsers for no particularly good reason, given that email UIs have very simple layout / interaction needs.
Note: This is Google's general browser support policy: support the current and previous major releases of the browser. [1]

2016-03-31 screenshot of Safari 6.1.6 (7537.78.2) with Gmail showing a warning:

This version of Safari is no longer supported. Please upgrade to a supported browser. Dismiss
Vague and generic updates explanations
Gmail's iOS app update release notes are often vague and generic.
Bug fixes and performance improvements.
is neither informative, nor a very convincing reason to update.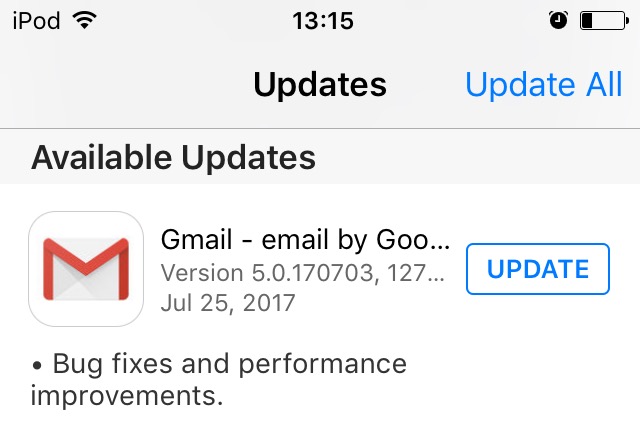 See Also