Google Maps
Jump to navigation
Jump to search
This article is a stub. You can help the IndieWeb wiki by expanding it.

Google Maps is a Google's web application for viewing maps, getting directions, and keeps track of your location history (opt out). They can also be embedded on other websites to display interactive maps.
How to
View your location history
View your personal location history as logged by Google Maps:
Turn off or delete your location history
Manage and delete your Location History
Features
location search (business name, address, or latitude longitude) and map display
Charts
Google Maps provides a variety of options for making map charts.
One of the most common is Geocoded Locations, e.g.: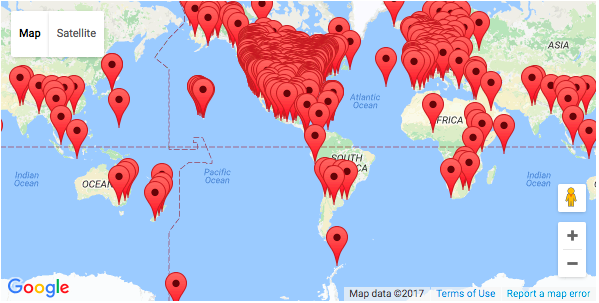 Temporary Features
Temporary features, e.g.:
Today is Election Day
On US Election day 2016 (November 8th), Google Maps showed a banner just below the main top left "Search Google Maps" input box, calling out that "Today is Election Day", and prompting the user to "FIND YOUR VOTING LOCATION" (linked to same place that below "SHOW ME" button did).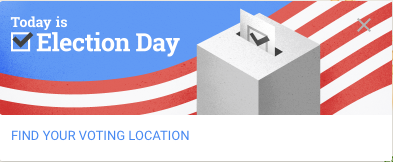 Show Polling Place
Two days before the US Election day in 2016 (November 8th), Google Maps started showing a special toolbar at the top stating:
Election Day is around the corner
Make sure you know your polling place
With a big blue button to "SHOW ME".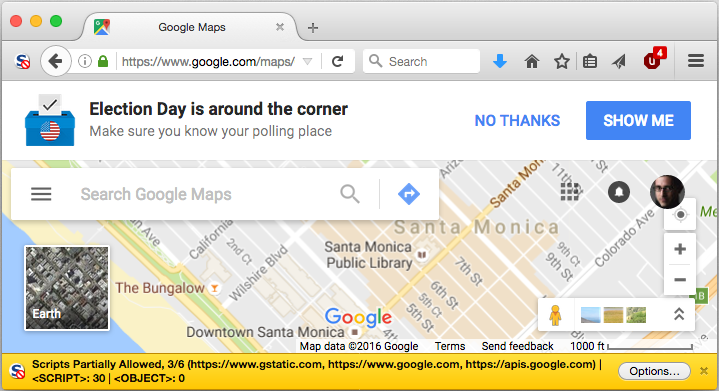 The "SHOW ME" button links to:
Which is a Google Search results page with a "Where to vote" onebox form at the top (this might be more appropriate on that page)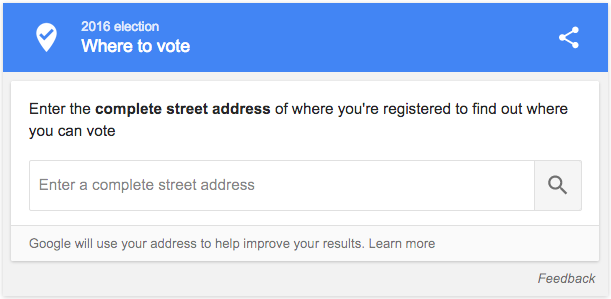 When you enter your street address and submit the form, the onebox expands and shows you a map to your polling place along with additional information and links.
E.g. if you happened to live at 1600 Pennsylvania Ave in Washington DC:
See Also