Inrupt
From IndieWeb
This article is a stub. You can help the IndieWeb wiki by expanding it.

Inrupt is a startup working on Solid that has been highly criticized for its non-diverse hiring while asking for unpaid diverse contributors to the Solid open source project that it builds upon.
Criticism
Unrepresentative of web
Inrupt appears to exclusively have male employees: https://www.inrupt.com/meet-the-inrupters/ With a couple of white women contractors. Unrepresentative of users of the web.
https://twitter.com/jensimmons/status/1046253992567861248

"Yes, let's reinvent the web from scratch. We can get it right this time. Step 1, hire only men, with a girl or two for HR & marketing. Step 2, hire as many white ppl as possible, definitely no black folks.

This will end up totally different. Totally better than the first time." @jensimmons September 30, 2018

https://twitter.com/jensimmons/status/1046586193075417088

"Read a start-up's team page to see which people are employees, & therefore probaby have equity — and which work for an outside agency, & therefore likely don't. Pay attention to, say, the gender or race of the people in each group. These are signals of the values of a company." @jensimmons October 1, 2018
Update:
As of MozFest, they appear to have one woman employee. (citation forthcoming)
Requested volunteer diversity
Context: in discussion of lack of diversity of Inrupt paid employees and contractors, requested diverse (unpaid) volunteers. From "Solid ecosystem and its developer experience" employee: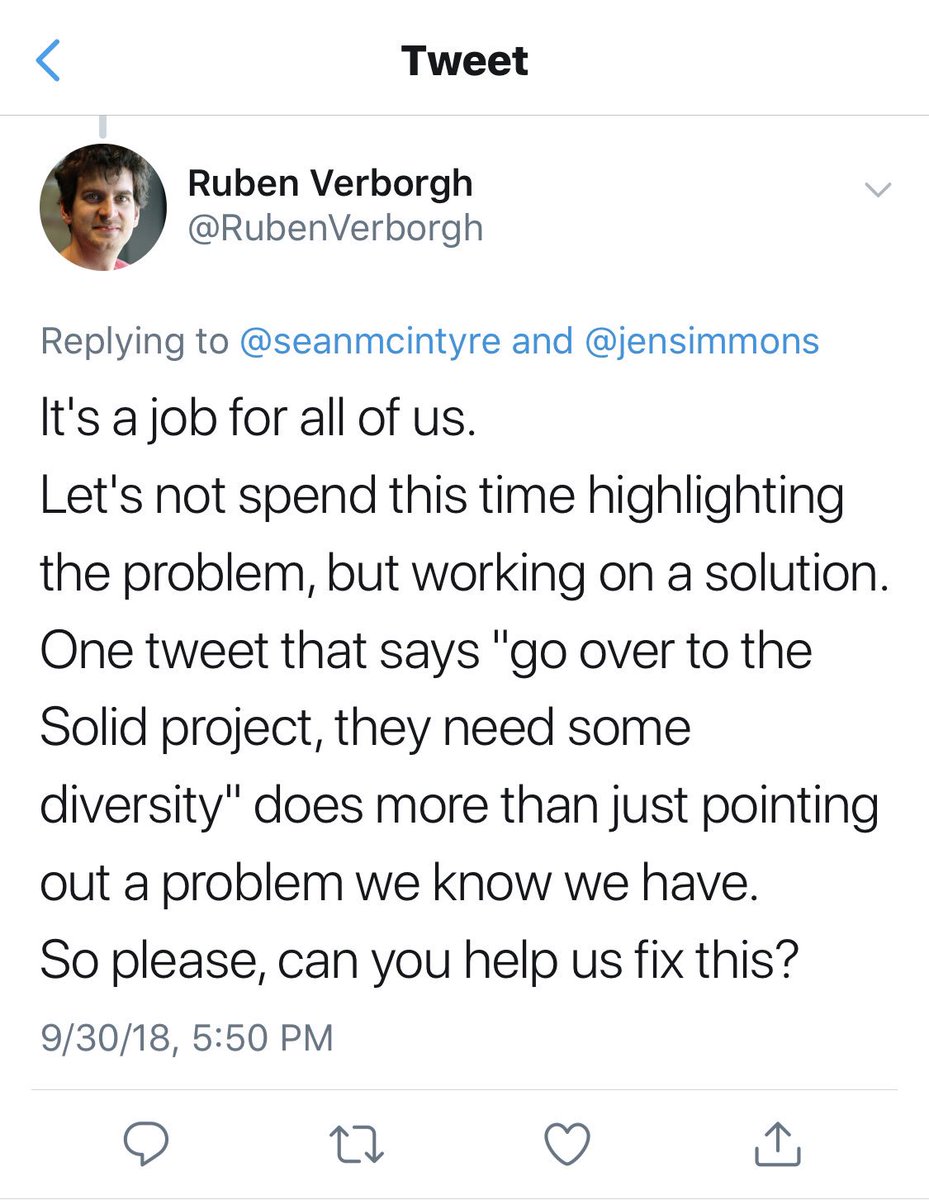 (the screenshotted tweet seems to have been deleted, please add internet archive URL)
(This is the closest I can find.)
World Domination Inappropriate In 2018 Global Context
From: https://www.fastcompany.com/90243936/exclusive-tim-berners-lee-tells-us-his-radical-new-plan-to-upend-the-world-wide-web
"The intent is world domination," Berners-Lee says with a wry smile. The British-born scientist is known for his dry sense of humor. But in this case, he is not joking.
In the global socio-political context of 2018 with nationalism (various countries) and fascism (Brazil 2018 election) on the rise, referencing "world domination" (whether jokingly or not) is inappropriate and does a disservice to / is insensitive to the under-privileged populations being actively harmed by worldwide political domination movements.
See Also