calendar heatmap
From IndieWeb
This article is a stub. You can help the IndieWeb wiki by expanding it.

calendar heatmap is a 2-dimensional calendar view that shows a value over time through color coding it, often with warmer colors indicating higher values (hence heatmap).
Silo Examples
GitHub
The contribution graph on Github user profiles uses light green to dark green to indicate level of contribution per day, on a 52x7 grid display of the most recent 52 weeks of contributions.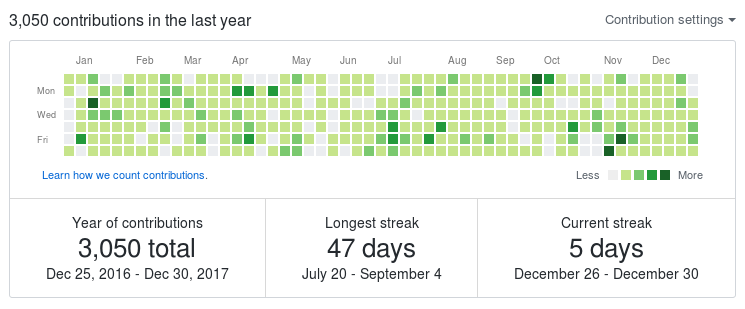 You can click on any of the squares and GitHub will show the contribution activity for that day below.
JetPack
The WordPress.com mobile app (utilizing JetPack for self-hosted sites) has an Insights section with a Posting Activity pane with data spanning two months to indicate how frequently one post to their website.
See Also