Omnibear
Jump to navigation
Jump to search
This article is a stub. You can help the IndieWeb wiki by expanding it.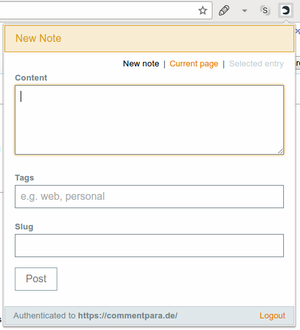 Omnibear is a browser extension for posting text notes, replies, bookmarks, and likes to your website using Micropub. Omnibear is created by Keith J. Grant.
Features
IndieWeb features that Omnibear supports:
publishing posts:
along with

Identifying sites that support webmentions (icon when responding/reacting to posts)
You can right-click on an any h-entry to reply, like, or repost it. You may also interact with posts on twitter.com and facebook.com the same way.
See Also
Firefox add-on no longer available, requires install below:
source on GitHub (includes directions for use as well as how to load directly into some browsers if the extensions aren't currently available)