Homebrew Website Club
From IndieWeb
Homebrew Website Club is a bi-weekly meetup of people passionate about or interested in creating, improving, building, designing their own website, in the same structure as the classic Homebrew Computer Club meetings.
Description
Are you building your own website? Indie reader? Personal publishing web app? Or some other digital magic-cloud proxy?
If so, you might like to come to a gathering of people with like-minded interests. Exchange information, swap ideas, talk shop, help work on a project, whatever...
Meetings
Meetings take place every other Wednesday right after work, 18:30-19:30. If it collides with an official holiday in your country, simply skip that one and resume two weeks later as usual.
See events for specific dates/locations/URLs of upcoming meetings, or this handy summary of upcoming/past dates:
Update next-hwc with a redirect to the next meeting!
Regular Meetings
Fortnightly
Just show up. These Homebrew Website Club chapters are well established and meet every two weeks (AKA bi-weekly or fortnightly) on a regular cycle.
Monthly
These cities meet monthly, usually the first Wednesday of the month, but sometimes just one Wednesday in particulary.
Baltimore, MD
Organizer(s): Marty McGuire, Jonathan Prozzi
First meeting 2016-09-21
We meet at least once per month. We aim to meet fortnightly to match the usual HWC schedule, but sometimes skip or move a week to avoid conflicts with our venue.
On Hiatus 2016
Regular 2016 meetups that have gone on hiatus. Message their organizers and tell them you'd like to meet up!
Edinburgh, UK weekly
Organizer(s): Harry Reeder
First meeting 2015-08-13 (Thursday)
Meets Tuesday nights. Met nearly every Tuesday night during 2015 from 2015-10 onward, and every Thursday night before that since 2015-08-13!
Göteborg, Sweden monthly
Organizer(s): Jeena Paradies
First Meeting 2015-07-29
Meets ~once a month (plan: every second Wednesday)
Irregular Meetings
Getting Started or Need Restarting
Speak up and help make another meetup happen! These cities have organizers (can always use more), have had at least one meetup, and would love to hear from you to help make more happen.
Ordered roughly by which locations have held meetings most recently first:
New York City, NY/Metropolitan Area

Organizers: David Shanske, Zachary Donovan
First meeting 2015-04-22
Plan: HWC New York will be meeting on a monthly basis as we build membership. If we're unable to meet on a regular Wednesday, we may meet on an irregular Wednesday for that month.
Waiting for: one or more additional regular co-organizers!
I am interested in participating - Larry Kooper
Brussels, Belgium

First meeting yet to be set. We just found a place at the heart of downtown Brussels.
We hope to have a first meeting by end of February.
Twitter: @hwcbrussels
Up-and-coming Meetings
Step up and make a meetup happen. These cities have one or more organizers interested in helping making a meetup happen and are up for grabs. Step up, contact the folks below, and make a meetup happen!
Coming up:
Seattle, WA - funwhilelost has one planned for 2017/04/19 please get in touch!
... add "your city" and details here
Step it up (sorted alphabetically by city)
Brisbane, Australia - Malcolm Blaney is interested, has an office walking distance from train.
Cincinnati, OH - Dave Menninger is interested in meeting up
Edmonton, AB, Canada - kongaloosh is interested in starting a meetup.
Sarasota, FL – TheDavidJohnson is interested in organizing a meetup in Sarasota, FL
Savannah, GA - User:Lawver.net is interested in organizing!
St. Louis, MO – Mark87 is interested in meeting up in St. Louis, MO.
... add your city and your name here if you're interested in co-organizing a Homebrew Website Club in your city.
Past Meetings
These cities used to have meetings and could totally use a new space(s) and/or another/new co-organizer(s) to step and make one happen! Past co-organizers are more than happy to help connect you to the existing community, so definitely reach out!
Minneapolis, MN

Organizer(s): Nicole Tollefson - has moved
First meeting 2014-06-18
Waiting for: need new local organizer(s)!
Structure
Organizers, use the following to keep your Homebrew Website Club meetups on time and on track.
Remember to take and post a photo to the event page!
Beforehand
Get a venue!
Post an indie event for your specific meeting city (at your specific venue - if you have one, otherwise post anyway, and add venue when you get it)
Post a Facebook POSSE copy of the indie event, or just a plain FB event if you have no indie event

Set the event header photo to a PNG like:
Link to the IndieWeb wiki page for the event, e.g. in the description like:

More information: https://indieweb.org/events/2015-05-20-homebrew-website-club

Link to your indie event and auth Bridgy with FB to get RSVPs! e.g. in the description

Originally posted at: URL-OF-INDIE-EVENT

Invite everyone who attended previous Homebrew Website Club meetups in your city, and those you've invited before, and any friends you know who may be interested in having their own website, or upgrading their blog etc.

Optionally post a POSSE copy on Upcoming.org or any other event sites that might help promote the event
Setup
17:00 arrive at the venue and:

make sure there is suitable seating for those that have RSVPd
make or bring a sign that clearly indicates the presence of an IndieWebCamp Homebrew Website Club meeting. If you come up with a nice sign design, please upload it to the wiki!
17:20 put the sign out (or put up the IndieWebCamp logo on monitors in the space if any)

save seats for at least a few of the folks who RSVPd
consider setting aside a separate room or space for "Conversation Corner" for those that can't help but want to carry on a conversation during Quiet Writing Hour!
17:25 test your projector setup to make sure people can show demos of their sites during the "Broadcast" half-hour from 18:30-19:30.
Quiet Writing Hour
17:30-18:30 optional Quiet Writing Hour: some locations have started hosting a quiet writing hour from 17:30-18:30 immediately before the meetup itself.
HWC Broadcast
18:30-19:00: Broadcast - take turns with the microphone 1-2 minutes on:
if this is your first time, introduce yourself, name, URL, what you'd like to do next with your personal site.
something new you created on or for your site since the last time you attended
questions about anything you're stuck on about your personal site
notable indieweb / ownyourdata related press / events
HWC Group Photo
~19:00: Group photo - organizers should call time on the "broadcast" phase and then organize and take a group photo to upload to the wiki and embed in the "Photos" section on the page for the specific event. This also helps break-up existing sitting patterns and gives people a chance to move around.
HWC Peer to Peer
~19:00-19:30: Peer-to-peer - encourage everyone to find others they heard in the previous half hour that were interested in similar topics. Help newcomers with getting started with their personal sites, and hopefully even logging into the wiki and adding themselves to the RSVP section for the meeting!
HWC Group Photo 2
~19:30: Group photo - If you forgot to take a group photo, or anyone new showed up, use the end of the peer-to-peer session as an opportunity to take another group photo.
HWC Clean-up and close
~19:45-20:00: Clean-up and meeting closure - get everyone to help clean-up and leave the meeting space cleaner than they found it (BarCamp style). Encourage folks to continue discussions at a nearby pub or cafe and get food/drink too!
HWC Immediately after
Combine notes from the broadcast portion of the meetup into a post.
Add to the event page on the wiki:

At least one group photo from your meeting.
Any other wrap-up posts with notes from the meeting.
Planning Questions
In rough order of when a co-organizer might encounter these:
Finding a venue
How do I find a venue?
Check out cafes that have an environment where people are sparse and the cafe is ok with hanging out with laptops for an hour or two.
What kind of food venue is works well?
Cafe style is best, where you order at the counter separately, and can come and go independently.
Wifi is a nice to have (or get someone to bring a mifi hotspot and share)
Power outlets are also a nice to have
Adding to the wiki
How should a co-organizer add a HWC-event to the wiki?
Two choices:

If your HWC is (preferably) on the same date as the "usual" HWC, add your city to the existing event page!
Otherwise if your HWC meetup is on a different date, then clone an existing HWC event page, change details as needed for yours, and add it to the index on Homebrew_Website_Club
And then follow:
Promoting a HWC event
How do I promote an HWC event?
Invite participants from previous HWC events in the same city.
Invite participants from IndieWebCamps from that city
Are there logos for HWC?
What to bring
What should I bring to the meetup?
A sign saying Homebrew Website Club might be helpful
Ask Organizers
Got more questions?
Ask active community members who (help) organize (or have organized) Homebrew Website Club meetups, e.g. in IRC, or in-person at a meetup!
Organizers (alphabetically by name, summary from the above lists, who has been active etc.)
Emeritus:
Amy Guy (formerly MIT, and previously Edinburgh)
History
Tantek was inspired after attending the Homebrew Computer Club 38th Reunion and set up the first meeting 2013-11-20 in San Francisco.
Logo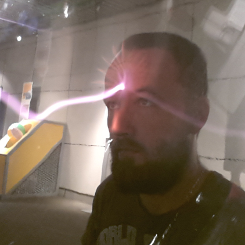 Malcolm Blaney has made a logo if anyone wants to use it:
See Also