2014/indie-reader
From IndieWeb
Session Notes
Imported from: https://etherpad.mozilla.org/indie-reader
Current readers
selfoss
feedbin
digg reader
Reeder
Discussion
Big divide in the original readers
is it an inbox where you have to read every item
or more like a stream that lets you dip in and out
a hybrid
What do we want an Indie reader to do?
read feeds - rss/atom, h-feed, twitter/fb/silos
inbox/stream
actions: share/reply/repost/upvote/fave/bookmark/rsvp
works on a phone
hide/block/mark as spam
mark as read
grouping (shane posted this photo on x, y, z rather than as separate items)
volume control per feed - filters
mailbox rules
full content in the reader
Whiteboard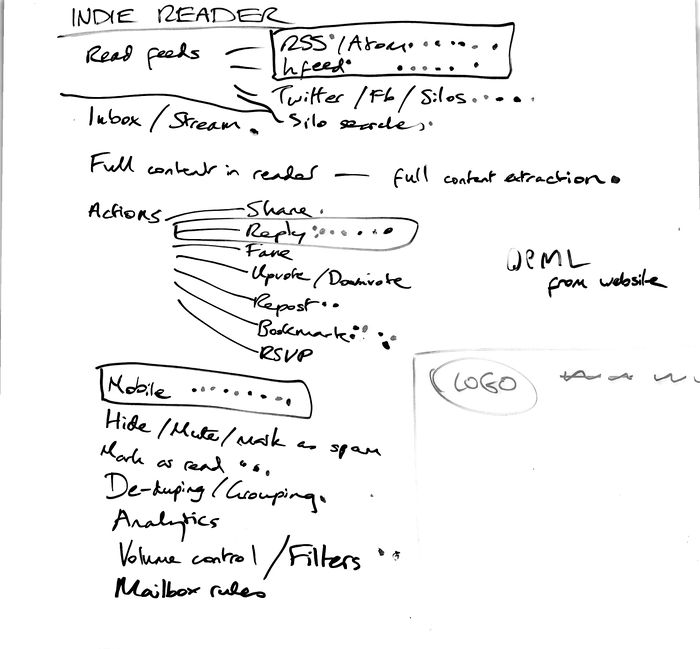 Priorities
Reading feeds: RSS/Atom/Microformats Actions: Reply Mobile-friendly
Micropub replies (inline replying from the reader to your own site) Run as a hosted service Target VM/servers for operations LAMP stack
Questions / Features
Where does the list of subscriptions live?
OPML file hosted on your website
Microformats2 version of OPML
can be updated outside of this reader app and used by other readers
Mailbox rules to create a public curated list of links like http://news.indiewebcamp.com/
Re-using views?
See Also