Path
From IndieWeb
This article is a stub. You can help the IndieWeb wiki by expanding it.

Path is a content hosting silo for private sharing of information among a small (limit 150) group of friends.
UI
Random bits of UI from Path.com.
Limited Reacji
Path was perhaps the first content silo to expand beyond like to a limited set of reacji - emoji-like graphics - as a way to react to posts.
Unsubscribe Confirmation Page
If you receive an email from "noreply@path.com", it likely has a line like:
If you do not wish to receive these emails, click here to unsubscribe.
If you click the "click here" link, you get the following semi clever confirmation screen: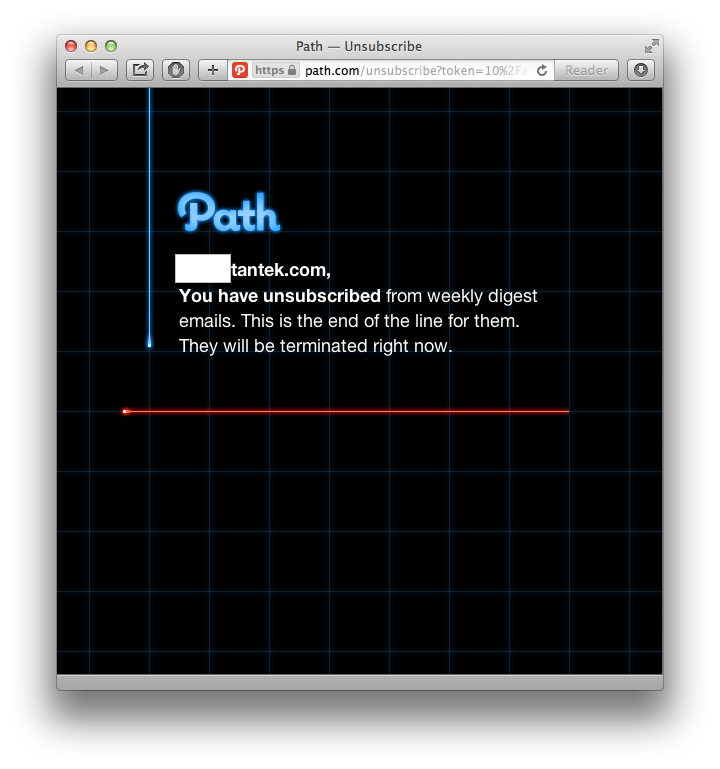 Filled rectangle used to redact email address.
The blue and red segments are actually animated, as if they're lightcycles from a birds eye view.
Reloading the page restarts the animation.
See Also