Path
From IndieWeb
This article is a stub. You can help the IndieWeb wiki by expanding it.

Path is a content hosting silo for private sharing of information among a small (limit 150) group of friends. On 2018-09-17, Path announced they would be closing 2018-10-18, with customer service open until 2018-11-15. [1]
How to export
Prior to [10.18.2018], you can restore retrieve a copy of your data (i.e. your images, text, videos) by following below steps:

Log in with your Path account
Click the button and enter email address that you wish to receive the backup files

OR

Open your Path app and go to Setting
Click the button and enter your email address that you would like to receive the backup files.

Please make sure that your Path app is the latest ver.

Please note that you will not be able to access the backup service site after [10.18.2018]. We may not retain copies of any of your data on and from that date. Accordingly, you are encouraged to download and keep copies of your data if you wish to have access from [10.18.2018].

https://path.com/about
UI
Random bits of UI from Path.com.
Limited Reacji
Path was perhaps the first content silo to expand beyond like to a limited set of reacji - emoji-like graphics - as a way to react to posts.
Unsubscribe Confirmation Page
If you receive an email from "noreply@path.com", it likely has a line like:
If you do not wish to receive these emails, click here to unsubscribe.
If you click the "click here" link, you get the following semi clever confirmation screen: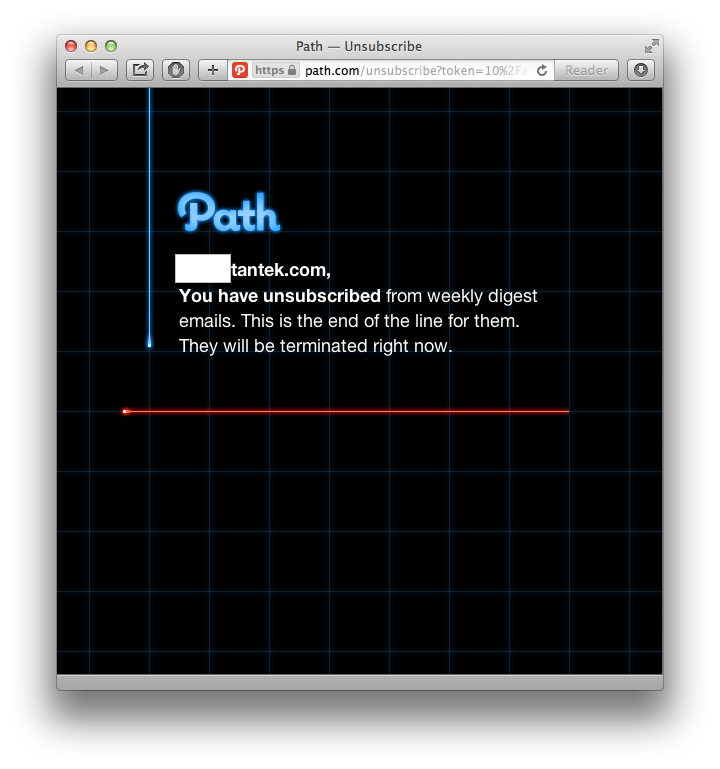 Filled rectangle used to redact email address.
The blue and red segments are actually animated, as if they're lightcycles from a birds eye view.
Reloading the page restarts the animation.
See Also