Friendica
Jump to navigation
Jump to search
This article is a stub. You can help the IndieWeb wiki by expanding it.

Friendica is an open source, federated social platform that aims to federate with many other networks (silo and indie alike).
Selfdogfooding
Michael Vogel is a Friendica maintainer
IndieWeb Examples
IndieWeb Compatibility
Issues
Comments, while having their own URL, render nearly identical output html. Thus comment URLs currently have the original post of a thread as the h-entry, not the comment.
Comments canonical URL are also not on the author's domain, thus could be forged (for microformats consumers)
Screenshots
Screenshot demonstrating a feed with posts from Quitter.se (GNU social via OStatus), another Friendica instance, and an PuSH/Atom feed.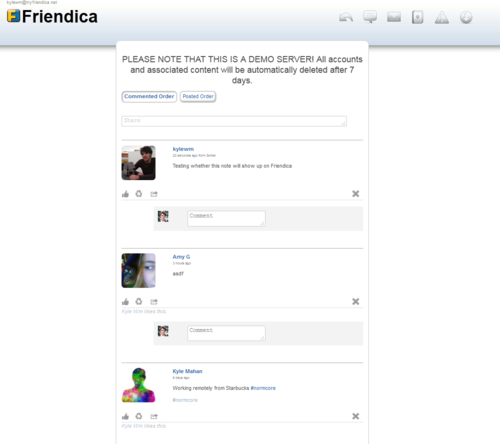 Past Examples
https://soc.beardyunixer.com/ used be a Friendica install but since 2017-10-08 just says

Apologies but this site is unavailable at the moment. Please try again later.
See Also