Linktree
From IndieWeb
This article is a stub. You can help the IndieWeb wiki by expanding it.

Linktree is a site for publishing a flat list of links at a short vanity path (like Twitter and other social media silos) for what appears to be for the sole purpose of seeming to provide multiple links from social media profiles like Instagram which only allow one clickable link in your profile.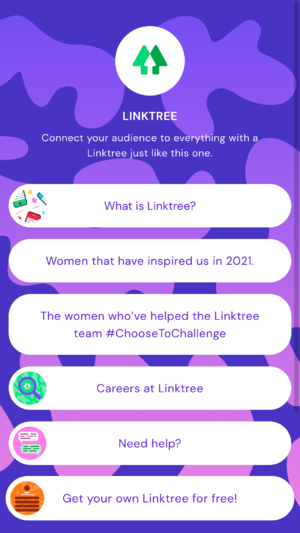 Why
Why have a page with a vertical stack of links styled as buttons with center-aligned text that looks simple / unconfusing on a mobile device (No reason why to use the Linktree silo in particular)?
collect links around causes for easy sharing on a wide range of social media silos/"platforms"
Why use the Linktree silo in particular:
Possibly: adding links to your social media profile that resist scanning by the social media site. For example, Instagram will remove any account with obvious adult site links but they won't if those links are behind a linktree link.
IndieWeb Examples
IndieWeb Examples of things that look/act like what Linktree does, without actually having to use Linktree.
Andy Bell: https://andy-bell.co.uk/links/

actually references Linktree by name in the page description

Anthony Ciccarello: https://www.ciccarello.me/links/

Adapted mobile-focused style and added QR code to open on phone
Currently a distinct list but considering listing pinned bookmarks

Aaron Parecki: https://aaronpk.tv/links/

Modified a theme from LinkFree
Shows a thumbnail of the 3 most recent Instagram posts, linking to the link mentioned in the post
Shows other related links below
At the bottom has links to the main website and other profiles
Brainstorming
linktree page
Has anyone has used the brandname recognition of Linktree to their advantage for such links?
E.g. rather than
you could make a
as a page on your own site or as a redirect your "links" page (like Andy Bell's above) and then use that link in "social media profiles" just because people have been taught to click on something that is called a linktree (or has "linktree" in a short URL)
Alternatives
Similar sites/services to Linktree:
WordPress Plugins
WordPress Themes
There's a old (predating 2010-06-17) MiniCard WordPress theme by Mike Jolley which visually has a similar look to Linktree which is described as a business card site for displaying social media sites that had built in vCard/hCard support.

An example of the theme can be found in use on Alex Enkerli's website.
See Also