local first
From IndieWeb
This article is a stub. You can help the IndieWeb wiki by expanding it.

local first is a UX design method for already installed applications (including webapps with service workers) where they are built such that the user can use them without requiring any non-local (like network) interactions or connections, typically to at least create and edit content which may at a later time be published or synchronized to another device perhaps across a network.
IndieWeb Examples
No known IndieWeb Examples.
Application Examples
Examples of applications that work in a local first manner.
Traditional native installed email applications (e.g. Thunderbird)
First means first
Local first literally means once you've installed the app, there is nothing else you have to do first in order to use its features involving local UI / content creation and editing, including, no requirement to sync-up or sign-in to a server, or create an account first, because that would make it local second to such requirements.
For counter-example, the Quip iOS app has an option when launching it to "Skip Creating an Account", however, if you choose that when offline (e.g. airplane mode), then you get the following error: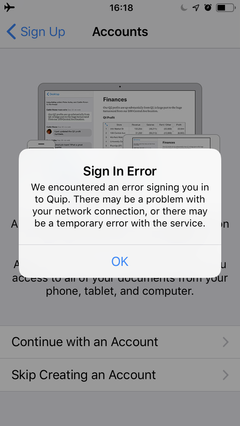 Sign In Error

We encountered an error signing you in to Quip. There may be a problem with your network connection, or there may be a temporary error with the service.
When of course, skipping creating an account should not require signing in to Quip, or a network connection, or a "service" at all!
See Also