A Domain of One's Own
From IndieWeb
This article is a stub. You can help the IndieWeb wiki by expanding it.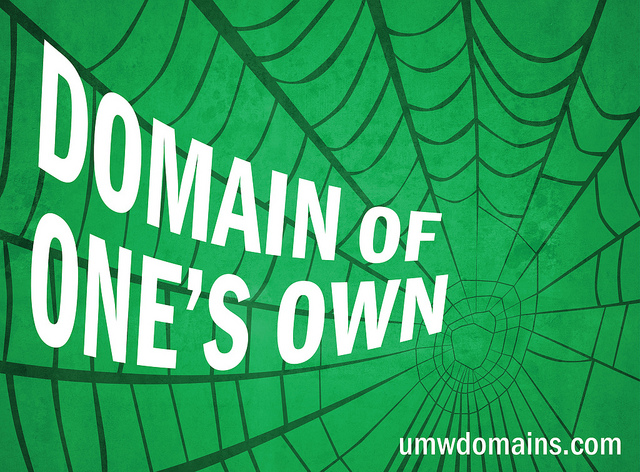 A Domain of One's Own (or DoOO) is a project at University of Mary Washington that allows students, faculty, and staff to register their own domain name and associate it with a hosted web space, free of charge. With their Domain and corresponding web space, users will have the opportunity and flexibility to design and create a meaningful and vibrant digital presence.
A Domain of One's Own (DoOO) is managed by the Division of Teaching and Learning Technologies (DTLT) at UMW. It was founded by Jim Groom, the co-founder of Reclaim Hosting.
DTLT works with faculty and departments to meaningfully integrate DoOO into their classroom practices and programs in order to ensure that students are gaining varied and valuable digital experiences during their time at UMW. In addition, DTLT supports members of the UMW community to use DoOO to cultivate a digital profile for their professional work.
Their site serves as a source of information about the project as well as a gateway for UMW users to login and manage their accounts.
Reclaim Hosting provides hosting and support as a commercial product and service to schools with DoOO program.
Technical Capabilities
Within the system, users may install LAMP-compatible Web applications, set up subdomains and email addresses, and install databases. In addition, users may choose to "map" their domain (or a subdomain) to other services, such as a UMW Blogs, Google Sites, or Tumblr.
Resources
See Also