Pinboard
From IndieWeb
This article is a stub. You can help the IndieWeb wiki by expanding it.
Pinboard is a silo for hosting bookmarks.
History
Features
IndieWeb Examples
atomicules
atomicules has gotten POSSE to Pinboard working using Jekyll combined with custom deploy/syndication scripts on atomicules.co.uk since 2015-03-31
Issues
POSSE
It does not seem possible to obtain the Bookmark ID as a return value when adding a bookmark via the API. This means it isn't possible to add a u-syndication link to the syndicated copy on the original post.
Bookmark Twitter Activity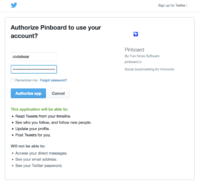 See also