buttons
From IndieWeb
This article is a stub. You can help the IndieWeb wiki by expanding it.

Buttons (badges, logos, banners) that you can use to link to indieweb.org.
Logos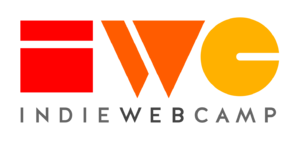 For other versions (size, color, file formats), see the indieweb/branding repo on GitHub.
Buttons

as an SVG


as an SVG


as an SVG

These need to be updated to the new logo.
Community Contributions
IndieWeb from Jeena

... more ...
Feel free to upload your own IndieWeb or IndieWebCamp related logos and embed them here!
Related
Brainstorming
Webmentions Accepted
Idea: an I ❤️ Webmentions or Webmentions accepted ✅ button to indicate your site accepts webmentions.
Link the button to your webmention endpoint with a query param of the page its on as the default target.
Have your webmention endpoint present a form UI to submit a webmention with the target auto-filled in with the default target from abovementioned link.
Use-case: Webmention-faq#How_do_you_know_if_a_website_uses_webmentions.3F
Indiewebified
For some old school web fun, if your site passes the tests at Indiewebify.me, one could add a button to their site with a link to Indiewebify.me and/or to the link indicating that their site passed. (Contextual note: many of these old buttons were originally used to indicate that a site used certain specifications or passed certain validation tests.)

See Also