Medium
Jump to navigation
Jump to search
This article is a stub. You can help the IndieWeb wiki by expanding it.
Medium is an article hosting silo, and as of June 2016, the owner of Superfeedr[1].
Why not
Why not to use Medium, see:
How to
How to migrate away
The best option to migrate away from Medium is currently micro.blog.
Note that micro.blog explicitly has medium to long form blog posting support:
See https://help.micro.blog/2019/medium-import/ for instructions on how to migrate from Medium to micro.blog.
Features
Medium provides the following features:
POSSE
It is possible to automatically (via IFTTT) and manually POSSE articles to Medium.
Automatic POSSE
From: https://medium.com/@saul/creating-medium-stories-via-rss-c2ac93d08288 UPDATE: There is no longer a publish from RSS trigger on IFTT UPDATE: Medium removed access to their publishing API
Create and sign into your Medium and IFTTT accounts
Make sure you have a valid RSS (or possibly Atom per IFTTT's feed channel which allows it) feed containing accepted markup.

h1, h2, p, blockquote, figure (img, figcaption), b, strong, i, em, a href, hr (section break)

Go to the Medium Channel on IFTTT, click Connect.
Go to the RSS-to-Medium recipe and click the gray Advanced Settings link underneath the blue Add button.
Put your feed URL into field "Paste a Feed URL here".
Click Add button
Updates occur every 15 minutes
Manual POSSE
Publish on your own site. Copy the permanent link's URL.
Click on your avatar in the top right corner.
Click on Import story.
Paste in the URL.
Edit the post on Medium if it took in a footer or put content in the wrong place (a header into the Medium title, for example).
Medium will automatically add an "Originally published at" note to the bottom of the post. It will also add a rel="canonical" link to the page pointing to your original post, making it so parsers know to get the post from your website when they are looking for the canonical version.
WordPress Plugin
Update the WordPress plugin has been deprecated and will no longer be supported. This maybe related to Medium shutting down their write API.
Unfortunately, we are unable to support the WordPress plug-in any further. As this is an open-source tool, we suggest you file a ticket for the community to review and fix. Additionally, you can always manually import your stories into Medium using our import tool:

https://medium.com/p/import I am sorry for the inconvenience, and if you have any specific questions please let me know.Medium WordPress.org Plugin Support Page
IndieWeb Examples
Jeremy Keith
Jeremy Keith is using Medium's API to automatically post copies of articles to Medium: Syndicating to Medium.
Shane Becker
Shane Becker is manually POSSEing his articles to Medium since at least 2013-08-08 (maybe longer) e.g.:
Kevin Marks

Kevin Marks is manually POSSEing his articles to Medium since 2014-04-21, e.g.:
Eric Meyer
Eric Meyer manually POSSE'd a blogpost to Medium on 2015-07-29:
He described his problems with the process in a follow up post that was first published on Medium and then manually PESOSed back to his own blog, 2015-07-30:
David Mead
David Mead used the WP plugin to POSSE a blogpost to Medium on 2016-01-24:
Other Examples
Examples from more people with independent sites:
Peter Gasston
Peter Gasston started "experimenting with x-posting to Medium" on 2015-08-07:
POSSEing likes
If you post a like of a Medium article, what is the best way to POSSE that like to Medium?
Exporting your data
Official Export
Official documentation. Export format is HTML with microformats
click the export button
wait for an email
click the link to download a .zip file full of HTML documents
these have a footer appended linking to the medium url that has the date exported
they break embedded tweets and youtube videos,
they replace external links with a redirect to a /r/?url= link that obviously doesn't work locally or on a server without you adding code
Medium-to-Markdown
Python script to output a Markdown version of a Medium post: https://github.com/markbiek/Medium-To-Markdown (If you have experience using this, please make notes here.)
API is write-only
@majelbstoat is the medium API write only? There's no docs on fetching posts, only creating them.

— Kevin Marks (@kevinmarks) March 22, 2016
@kevinmarks For the time being, yes. Going to approach that thoughtfully, recognising that lots of APIs have given and then taken away.

— Jamie Talbot (@majelbstoat) March 22, 2016
Issues
buggy rel-canonical implementation
If you set the rel-canonical for a post on Medium using their API, it both fails to do so correctly, and then resets (via JS?) the rel=canonical link to a medium.com URL, not what you set it to.
Downtime
Nagware
Since at least 2017-08-19 Medium started showing modal popup nagware when viewing an article after you have read some number of articles that month. The dialog tells you how many Medium posts you've read to guilt you into signing up. (current limit is 3)
Nagware modal 2018-05-29
Note the now 3 (used to be 14) articles per month limit since at least 2018-05-29, likely earlier.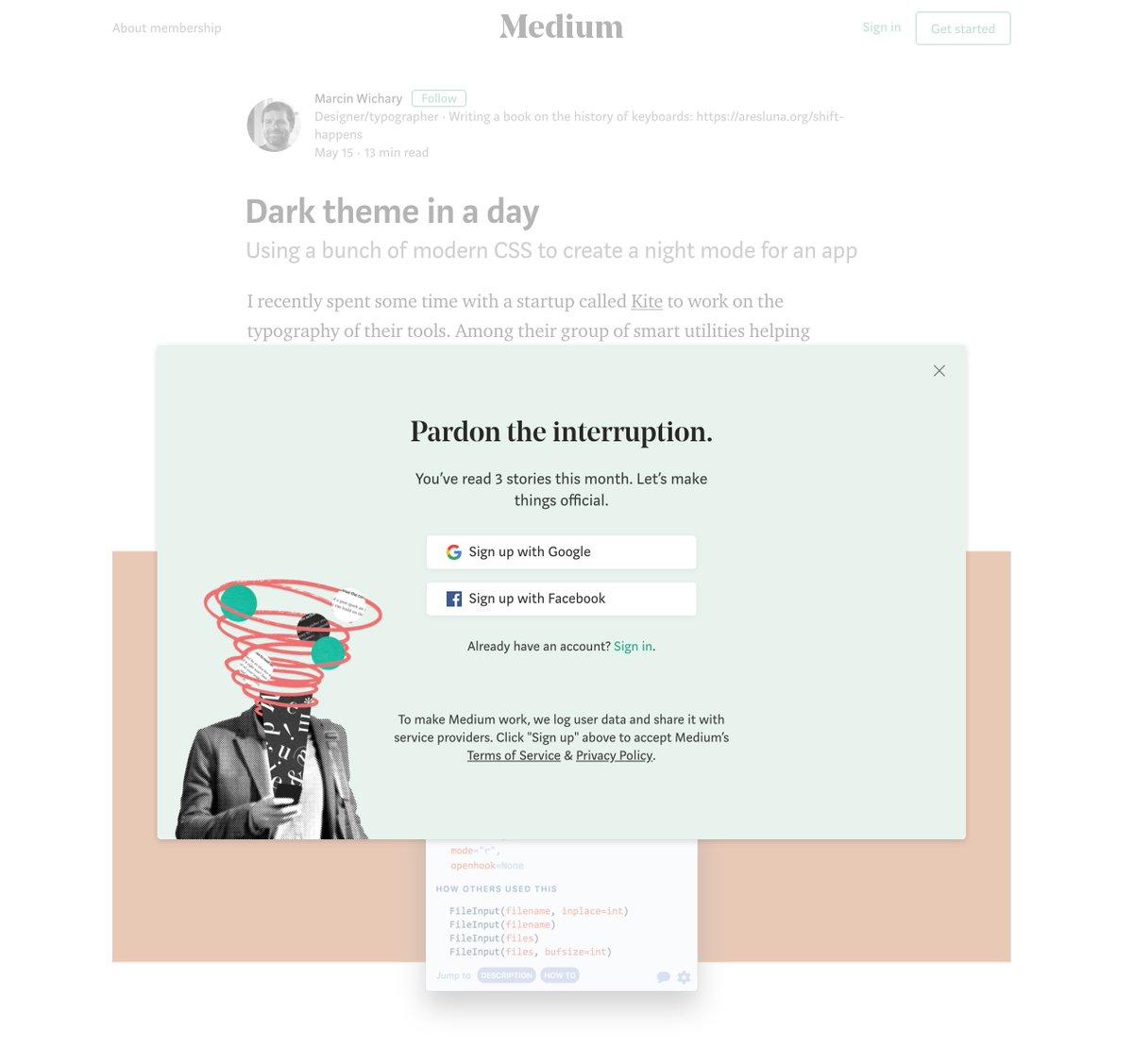 From tweet: https://twitter.com/geddski/status/1001590716265512961 since at least 2018-05-29
"2017: maybe I should just use medium instead of my own custom blog?

2018: whew"
— @geddski May 29, 2018
Nagware modal 2017-08-19
Note the 14 articles per month limit since at least 2017-08-19, perhaps earlier.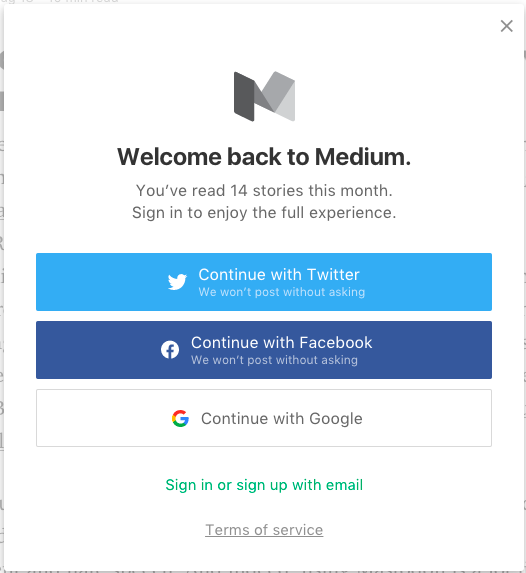 Criticism
Walled Garden / Content Farm
Promoting App over Web
Lightweight Marketing Articles
More of a criticism of *reading* Medium (e.g. clicking links through to Medium posts)
https://news.ycombinator.com/item?id=13570227:

The articles on medium.com seem to be lightweight, designed for marketing purposes. All carbs, no protein.

…

Lately it seems they are very much marketing pieces

more criticisms there that could be extracted and quoted like bad TOR UX, 'they do signal "low-quality"' / "not enough real world depth of experience behind them", iOS app crashes "using an iphone 4s with ios8 and medium crashes"
Other
2014-07-23 Medium rolls out New Editor Features, marginalia comments are full of disappointment and criticism
2019-02-17 https://twitter.com/html5test/status/1097090786833899522

"One more reason to avoid Medium as a writer and reader.

If you publish on Medium you are choosing to put your content in a walled garden and out of your own control, and out of reach of readers.

Medium is not the open web and not a replacement for your own blog or site." @html5test February 17, 2019
2019-04-13 Medium tedium

Medium hasn't invented anything, they've just tried to commoditize long-form blogging and put a sheen on it. There are so many better ways to share your thoughts to the world.
Articles
See Also
https://twitter.com/JohnONolan/status/1040330746601324544

"Medium realllly don't want people to jump ship these days.

Want to export your publication? Yeah no. That's not even a thing.

You can download your personal archive - but Chrome will then block it cause the zip is malformed in some way.

Here, have some more popups." @JohnONolan September 13, 2018

https://tilde.zone/@kirch/103720877933063754

"If you put your programming article up behind the paywall on Medium.com instead of on your own blog, you are not a true hacker, and will not hear the horns of freedom when you die, and the blinkenlights of Das Komputermaschine will not shine above your grave." @kirch February 25, 2020

https://twitter.com/ryanbigg/status/1392325748204064768

"What fresh bullshit is this, @medium?" @ryanbigg May 12, 2021

Criticism: https://twitter.com/kickinson/status/1416082423612313610

"don't host your publication on medium" @kickinson July 16, 2021

Criticism: https://twitter.com/adactio/status/1458403323283914763
Possible sign of impending site-death: https://twitter.com/tchambers/status/1547017293791633408
Poll: Is there a negative stigma toward articles written in Medium? "Poll: Is there a negative stigma toward articles written in Medium?"
2023-01-12 Medium embraces Mastodon — In which Medium launches a Mastodon instance rather than say, "just" supporting federation/ActivityPub directly on existing Medium profiles, which would have enabled such things like comments on Medium articles from across the web.
Criticism of separate Mastodon instance: bifurcating users's "Medium" identities across two accounts like that is not very user friendly, and adds the cognitive load of "which medium-ish thing/account should I post my medium-ish thoughts today?"
^ more criticism: feels a bit more knee-jerk FOMO-based launch than something well thought out with their existing service(s), community, etc. E.g. they could have instead deployed their own instance of Bridgy Fed.
Criticisms: thread: https://mstdn.social/@kissane/109677504157457030