2020/Austin/Schedule
Jump to navigation
Jump to search
The IndieWebCamp Austin 2020 session grid is where notes and videos from all sessions can be found.
All times are local times.
Saturday February 22 2020
Time
Capital Factory, 701 Brazos St, Austin, Texas
9:00
Doors open, coffee, and breakfast!
10:00

Welcome — Manton Reece
Keynotes
Natalie Hester — Sharing Gratitude ▶️13:00s
Pace Smith — Without Glue, Everything Falls Apart ▶️14:44s
Aaron Parecki — Social Readers ▶️10:51s

11:00
Personal site demos
▶️30:49s
11:30
Session Scheduling
12:00
Group Photo & Lunch
Main room (Devvie) 🎥 Zoom Link
Johnny Five 🎥 Zoom Link
Astro Boy l 🎥 Zoom Link
13:15
Explaining the IndieWeb

IndieTrustWeb

14:00
Combined Session - Improving Local Communities with New Methods and the Affordability of Owning Your Own Data

Comments Replies and Responsibility

14:45
Turbolinks-Powered Hybrid Apps

Learn Microformats by Fixing Micro.blog

15:30
Reclaiming Your Content From Social Media Silos

Read Posts/IndieBookClub

Video

16:15
All Things Photos - taking, curating, editing, posting, limited sharing, etc.

Flow -> Stock

17:00
Day 2 preview
Photo of session grid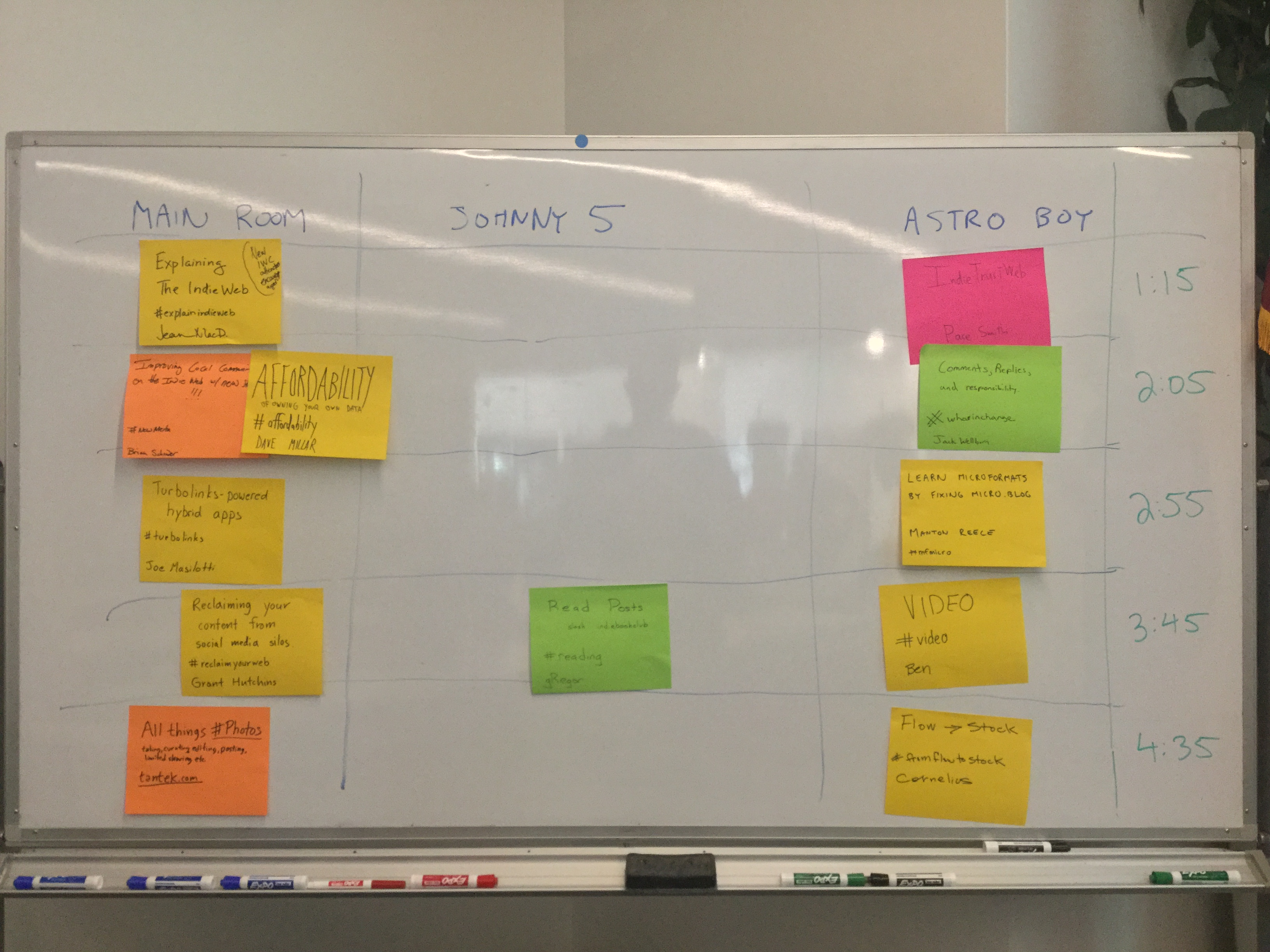 Sunday February 23 2020
Project Day Make things on of for your personal website and demo it!
Other Years
See Also