payment
From IndieWeb
This article is a stub. You can help the IndieWeb wiki by expanding it.

payment in the context of the indieweb refers to a feature on an indie web site that provides a way for the visitor to that website to pay (currency, gift card credit, etc.) the person represented by that indie web site.
How
There are several tutorials on how to create links / URLs for various payment services to put on your web site:
Currency:
Gift card(s):
Once you have a payment URL e.g. pay.example.com/username/usd/5, link to it with rel=payment, e.g.
<a href="https://pay.example.com/username/usd/5" rel="payment">Donate $5 to me</a>
Why
So anyone who visits your website can easily pay you (for whatever) in the ways you prefer to be paid, similar to how communication links help people communicate with you in the ways you prefer[1].
IndieWeb Examples
Specific rel=payment links:
Aaron Parecki uses rel=payment to link to Venmo, Paypal, Square Cash and Gratipay on his home page.
Pelle Wessman uses Jekyll to add Flattr rel=payment links to each blog post on voxpelli.com
Bret Comnes has links to a bitcoin addresses hosted on coinbase a tip jar. I had a dogecoin address that was hosted on dogevault but dogecoin shut down after getting hacked.
Overall /payment page:
Overall /payment page with /payment/nn support for auto-filling $ amounts
Other independent examples
Podcast Examples
Quite a few podcasters include rel-payment metadata – mostly in their podcast feeds but also on their blog pages. This as podcatchers has started using the data to automate donations.
Notable examples:
The 5by5 network uses it in their feeds
Big german podcaster Tim Pritlove uses it across all of his podcasts, both web pages and feeds
Scott Hanselman
Intro slide from Scott Hanselman's talk at .NET Fringe 2017: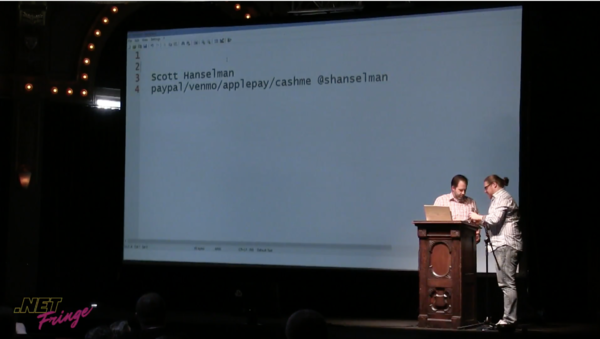 Implementations
Publishing Software
Plugins exist for some open source publishing software:
Tools
Rel-Payment Firefox Addon – shows a clickable icon in the address bar when a payment link is detected for a page
Many podcatchers, like Instacast and gPodder, rely on rel-payment data in feeds for their integration with Flattr for eg. enabling automatic donations for listened episodes
Services
Brainstorming
Payment page
Just like having a /contact page, your indieweb site should have a /payment page with icons linked to various ways to pay you.
Interested:
Payment page with amount
Just like PayPal.me and Square Cash cash.me, your Payment page should allow a subdirectory component for a dollar amount, which it would then build into the specific payment method links:
/payment/10 - to pay you $10
Alternatively this might read better as just "pay" (also less typing), e.g.
Note: this could be handled fully serverside.
Note 2: take a look at the PayPal.me and Square Cash cash.me UIs, which I *think* let you edit the amount and add a reason. Those may be good enhancements to consider for such pre-filled out payment subpage URLs. Then again if the payment service provides a final opportunity to edit amount/reason, then having that on your own site may see redundant.
Articles
Articles about various forms of payment from an independence perspective:
See Also