WordPress.com
From IndieWeb
This article is a stub. You can help the IndieWeb wiki by expanding it.
Wordpress.com is a blog hosting service that runs the WordPress open source software.
Why
Wordpress.com provides a free tier for blogs hosted at *.wordpress.com URLs with a variety of great services and options.
There are for-pay options (most for just $5/mo total):
use your own custom domain name
remove advertising
add plugins or purchase other themes
These addition services can run anywhere from $3/month to over $25/month depending on the level of additional services supplied.
Alternatives
Depending on the features you'd like to have, be aware that it may be cheaper or potentially even easier to use a different managed host or a self-hosting option to run your WordPress website.
How to setup
(this section is a stub outline - please help fill it out)
Free Tier options
Theme recommendations
Sempress
Independent Publisher
Webmention via Brid.gy
Include caveats about how this works
Upgrades
Blogger $3/month
Personal $5/month
Premium $8/month
Business $25/month
E-Commerce $45/month
Alternate options for Managed Hosting
WordPress.com beyond the free tier can become more expensive depending on your needs and desired functionality and a variety of other managed hosting options are available for those who don't want/need to deal with the maintenance tasks involved with using WordPress.org versions of the software.
see also: https://www.wpbeginner.com/managed-wordpress-hosting/
IndieWeb Examples
(none so far)
IndieWeb Features
Built-in POSSE provided by Jetpack Publicize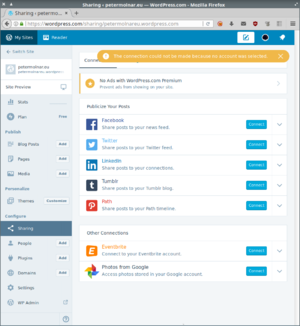 Jetpack Publicize
is available on every WordPress.com blog and can POSSE to a variety of silos with minimal configuration requred. It also has excessive and clear documentation.
It's dashboard can be found under https://wordpress.com/sharing/[your wordpress.com domain]:
Built-in import from external sources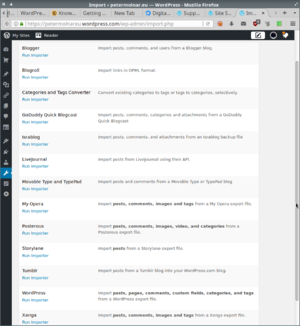 Both WordPress and WordPress.com provide built-in importers to move content into it easily.
WebSub
Supports WebSub as a publisher on all Atom feeds hosted on wordpress.com since 2010-03-03. More detail here.
Note: Bridgy's Webmentions for blogs gets real-time updates from wordpress.com in order to send webmentions on their behalf.
Criticism
comment silo
When commenting on other blogs hosted on Wordpress.com, (even blogs with a custom domain such as gigaom.com), it makes you sign in using your Wordpress.com account.
There is a section on your logged-in view, "comments I made" which is supposed to show you comments you made on other wordpress.com blogs. However it did not show the latest comment I made on a gigaom.com post, despite it forcing me to log in to my Wordpress.com account to make the comment. Aaron Parecki 14:38, 13 January 2015 (PST)
WordPress.com is a blog hosting service with impressive importing and export features. See for details:
Hosted themes
WordPress.com provides themes to change the HTML/CSS/JS and general appearance of a user's site. While users can pay for a feature to write custom CSS, they can't change their theme markup. Which means amongst other things, a user cannot specify some markup in a post to show on a permanlink page and not in the post when it's a part of a feed. For example,
webmention
WordPress.com doesn't have built in support for webmentions, but Bridgy can send, receive, and display webmentions for WordPress.com blogs. You can also receive webmentions with webmention.io and maybe webmention.herokuapp.com.
cURL Problem
On 2014-05-06 it was reported that http://indiewebify.me returned an empty result when attempting to check gabrielscheer.com. That domain is hosted on wordpress.com and it appears that wordpress.com is blocking some cURL requests based on the User-Agent. At a minimum, it appears that wordpress.com is blocking cURL requests with the Guzzle User-Agent.
This issue was previously reported on Github on 2013-05-19 [1]
Examples
Unsafe Third Party Advertisements
Based on Wordpress.com Terms of Service,"Automattic reserves the right to display advertisements on your blog unless you have purchased a plan that includes the removal of ads," and Automatic, based on their privacy policy uses cookies to deliver targeted advertisements.
These targeted advertisements are hard to remove without upgrading to a paid plan. In fact, based on the privacy policy," Automattic does not respond to "do not track" signals across all of our Services ."
These targeted advertisements, presented by third-party ad networks, often reflect a bias in our society. For example, there is evidence of engendered sexism with women being targeted with ads about weight loss and body shaming at a far greater rate than men. Keywords such as anxiety, mental health, diet, and exercise can serve up advertisements, on site registered to females, that may act as a trigger for vulnerable populations.
In one documented instance Automattic repeatedly displays, through their third-party vendors, fat shaming advertisements on a blog about overcoming eating disorders.

Limit Likes
In addition to the fact that their built-in like functionality is done in a way that doesn't let the user own their own likes, it is apparently either rate limited or limited in some ways to prevent spammy or malicious behavior as indicated in this post: I Ran Out of Likes! Wtf?.
Each like sends a notification to the site owner, a process that can potentially be viewed as spam notifications if they're unwanted or egregious. It is unknown how many likes will cause the initiating user to "run out".
POSSE to hosted
It is possible to manually POSSE articles to Wordpress.com.
IndieWeb POSSE Examples
Shane Becker
Shane Becker is manually POSSEing his articles to Wordpress.com.
Chris Aldrich
Chris Aldrich automatically POSSEs (mostly articles) from his self-hosted WordPress install to his WordPress.com account using WordPress Crosspost. This allows people who were following his old blog to continue to get updates without needing to migrate.
Micropub
It is possible to use Micropub clients like Quill to post to blogs on Wordpress.com using Feverdream as a bridge.
See Also