2017/Schedule
Jump to navigation
Jump to search
Schedule for IndieWeb Summit 2017.
Friday Pre-Party
Pine Street Market is an indoor food hall with a wide variety of food and drink options.
Saturday
Day 1: Keynotes and Discussions
PDT
Alameda
Hub
Deschutes
Blitz
9:00
9:00 Badges, Coffee, Breakfast
10:00
Introduction and housekeeping ▶️12:39s
10:05
What is the IndieWeb - Aaron Parecki ▶️06:25s
State of the IndieWeb - Tantek Çelik ▶️14:53s
A Brief History of My Website - Lillian Karabaic ▶️19:03s
Indie Map - Ryan Barrett ▶️25:49s
(5 minute break!)
11:45
Lightning Intros & Personal Site Demos ▶️32:30s
12:15
Group photo & food cart lunch
13:30
Session Proposals and Scheduling ▶️22:23s
14:00
WordPress

¯\_(ツ)_/¯

▶️46:54s
indietech.rocks

Create site listing products that don't screw us ▶️48:19s

What conditions make for effective collaboration? ▶️45:02s
Specialized Micropub clients ▶️48:02s
15:00
Reading posts ▶️51:00s
Putting it all together (UX) ▶️52:00s
Indie events, making, finding, RSVPing ▶️56:04s
IndieWeb for Hardware

What the physical web taught Google about the need for reputation ▶️55:26s

16:00
Personal Website Layouts

Looking at pretty ones ▶️54:03s

OStatus Bridge

Connect to Mastodon, GNU Social, … ▶️56:25s

Fed Wiki Quick Start ▶️55:40s
17:00
IndieWeb.org Refresh ▶️57:33s
Location Location Location ▶️57:00s
"Siri, what is Tantek doing?" ▶️47:16s

Bridging IndieWeb with audio interfaces

18:00
Closing Session, break, self-organized dinner
lunch options
second breakfast
Whole Foods (a block away)
Prasad bowls & smoothies (a few blocks away)
Alder Food Carts (between 9th & 10th)
evening activities
Feel free to self-organize evening dinner and activities during or after dinner here!
🎙 18:15-20:00: A tour of STREAMPDX, a community podcast studio in an Airstream trailer that Aaron Parecki helped create. We'll meet at the streetcar stop at 6:15pm, take the streetcar over the river, and walk to the studio. Transit directions. Led by Aaron Parecki
👾🕹 ~20:00 Arcade games at Ground Kontrol. Led by Tantek Çelik and ....?
🎶 21:00 An evening of indie music at Kelly's Olympian, featuring nerd bands Megathruster, Lucia Fasano, and Piefight. Led by macgenie
... add more ideas here if you want to lead something!
---
Sunday
Work Sessions. Hack day. Build stuff and demo it!
Afterparty
🎤 6:30PM-8:30PM (may go later): Private Room Karaoke @ Voicebox East Side with host Lillian Karabaic. Has delicious (and vegan and gluten-free friendly) food and drinks. Can accommodate up to 18 people. Thanks to DreamHost for sponsoring!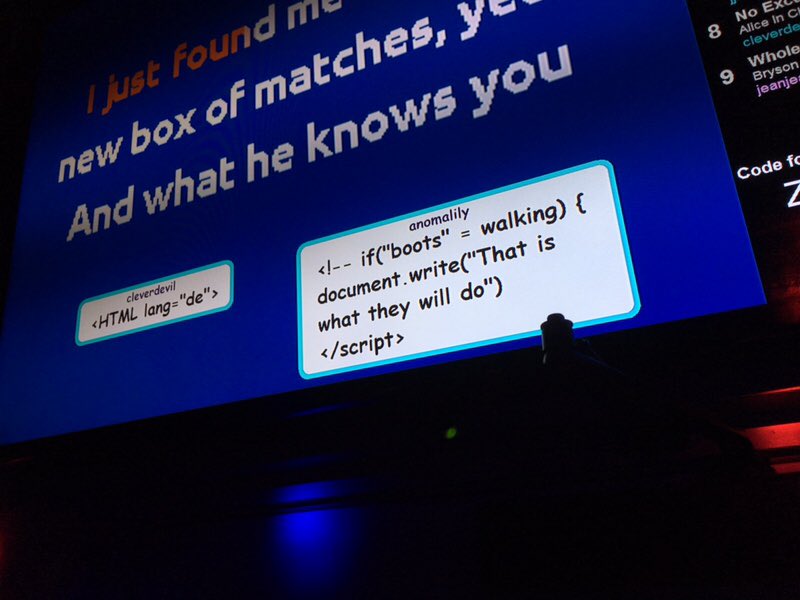 Projects
Interested in collaborating on a project on day two of IWS? Put your information here:
Previously at the top
Previously at the top of the page / various sections for during the summit.
Get psyched for IndieWeb Summit 2017!
Go RSVP: https://2017.indieweb.org/
Book flights/hotels to be in town Friday June 23rd through Sunday night June 25th

Organizers plan to arrive in downtown Portland by 09:00.
Livestream: https://www.youtube.com/watch?v=Ssy9VD9fgjs
Etherpad index: https://etherpad.indieweb.org/2017
Days
Overview of days:
2017-06-23 Day 0: Before The Summit

all day: OSBridge barcamp / unconference day (register with OSBridge for an "Unconference ticket")
half-day: IndieWeb Organizers Summit
evening: 17:30 Pre Summit Meetup at Pine Street Market, 126 SW 2nd St. (want to sponsor?)

2017-06-24 Day 1: Keynotes and Brainstorming
2017-06-25 Day 2: IndieWeb Hack Day and Demos!
---
See Also
Other Years