read
From IndieWeb
📖
This article is a stub. You can help the IndieWeb wiki by expanding it.

To read or reading is the act of viewing and interpreting posts or other documents; on the IndieWeb, a read post expresses that something has been read, like a book or section thereof. This could serve as a way to share books etc. with followers, or to notify the author of a document that you have read it (if the document can receive webmentions).
IndieWeb Examples
gRegor Morrill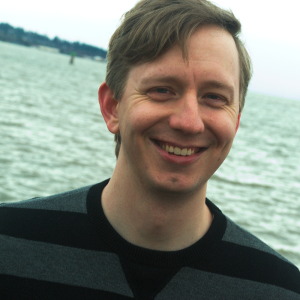 gRegor Morrill is experimenting with posting to-read posts and reading progress check-ins as of 2015-01-25:
Notes:
rhiaro
Amy Guy displays read posts since 2015-08-04. These are different to bookmarks, as I expicitly mean bookmarks as to-read or to-read-again. I expect to add notes (content) to read posts in the future, too. Marked up with the made-up microformat u-read-of.
Tantek
Tantek Çelik is experimenting with posting "read" posts as plaintext notes of a specific format, based on his brainstorming thoughts.
Short stories as part of a volume, starting with "read ", (smart)quoted name of the work, optionally part of what larger work, "by ", name or @-name of author, punctuation of some sort with additional contextual remarks or commentary. Examples:
Books of (collections of) distinct essays, short stories, other writing:
Books, starting, finishing chapters, finishing a whole book, a book in a series, also based on brainstorming thoughts
Magazines / periodicals, progress, and articles read:

Will likely only post when I've finished reading a complete "chunk" of a work, a named section or numbered chapter perhaps.
Ryan Rix
Ryan Rix (rrix) has posted Read items on Arcology since it was created, as a way to signal other people that something is worth reading. Read posts are treated identically to regular posts, or notes, but with a URL in the heading and body. Some notes contain a pull quote or comment on the article, which are just shoved in to the e-content like any other post.
Most read items are pointing to blog posts or other online "long reads" though they could also link to books on Amazon or so, as I am doing reading through a book and taking notes as I go.
Chris Aldrich
Beginning in the late summer of 2016, I began posting read books along with reviews, highlights, notes, and marginalia on my site to a great extent owning large portions of data that I now POSSE (manually) to GoodReads.com, Amazon, and other book related silo services. In large part I'm using many of the ideas from brainstorming thoughts below along with thoughts here from Tantek and others. A good example of such a post can be found at Maps of Time: An Introduction to Big History. Another post which includes links to individual status updates of interstitial progress can be found here.
Beginning on 10/30/16 I began owning the articles I'm actively reading online using a modified PESOS workflow using both Reading.am and IFTTT. It's described in more detail at Owning My Online Reading Status Updates. In this workflow, I actually prefer to bookmark the article I'm reading in real time and the PESOS workflow allows/reminds me to post notes/thoughts to the post once I'm finished reading, or very shortly thereafter.
In December 2016, I began using PressForward to internally save private bookmarks for web-based articles/pages I want to read later, as well as a way to easily publish them as read posts when done. PressForward saves the canonical URL of the original post and allows a setting for the archived post on my own site to forward to the original after a set number of seconds.
On 2017-01-07, I began pinging the Internet Archive with URLs of both my own posts as well as links within posts using Post Archival in the Internet Archive in a method similarly suggested previously by
Jeremy Keith.
Jeremy Cherfas
Jeremy Cherfas in February 2017 began posting reviews of books he's read along with notes and highlights, and marginalia from his Amazon Kindle. Example: Cuisine and Empire: Cooking in World History
Other Examples
Other interesting or notable examples of people posting about reading on the web, perhaps lists of books they have read, perhaps on another site but not on a "read" post silo.
As clusters of interesting behavior emerge here, they may be worthy of labeling and their own pages, e.g. "personal library", "owned books", "books to read" etc.
Ryan Barrett
Ryan Barrett keeps a list of books he has read and would like to read:
Amy McLay Paterson
Amy McLay Paterson read 164 books in 2015 and tracked them all in a spreadsheet.
Article: http://www.vox.com/2015/12/29/10634416/reading-list-books
Spreadsheet: https://docs.google.com/spreadsheets/d/1f6OqC9c9wpZooYW0hip8QtoCwkNjsjbwXHY8hCDbTtU/edit#gid=952505333
Christian Weiske
Christian Weiske keeps a list of books he has read. Markup as h-cite with u-uid for the ISBN.
Erin Jo Richey
Template:erinjo publishes her personal library of books she owns (and has likely read most if not all) on her website:
Mandy Brown
Someone mentioned this site at IndieWebCamp LA 2016 as a good example of someone reading and including some of their notes in posts.
Brainstorming
Tom Morris
Tantek thoughts
Some thoughts from having experimented with a couple of "read" posts (see above).
The terminating period (.) in each example could be any punctuation, other sentence terminators (!), or a comma(,) indicating commentary afterwards.
Details of terminology used in text-first design:
read

meaning I started and finished reading it in close temporal proximity

started reading (note Twitter search/usage)

finished reading (haven't used yet, but thinking about)

meaning I started reading this sometime in the past (days, months, years? ago), and just now finished reading it.

in

indicates section/chapter as part of some larger work. any following information (hashtags, URLs) apply to the larger work

by

prefix indicating author information follows, either as an @-name, or Capitalized Full Name
Considering:
Chris Aldrich thoughts
Having played with nearly every reading app and website in existence, I've been contemplating the time-changing nature of reading related posts. I've written some ideas and thoughts based on past experiments and UI examples from reading/book-based silos for future implementation. The tl;dr is a reading post type that subsumes the longer workflow of read later >> bookmark >> notes/highlight/fragmention/annotations/marginalia >> read >> review. Thoughts for concatenating verbiage are appreciated. The linked post also includes some screenshots of silo-based systems and UI.
I like Tantek's thoughts about using emoji as visual indicators, particularly when POSSEing to platforms like Twitter. I'm considering (example) using the following as indicators within my workflow described above:
Read Receipts
A read post in reply to a message, from one of the recipients of that message, is a read receipt of that message.
Micropub client
There was some discussion about a micropub client for posting books being read/completed: https://indiewebcamp.com/irc/2016-06-09#t1465505870288
Silo Examples
Goodreads
Goodreads to FB
Goodreads has a way to cross-post your "read" (and review) posts to your Facebook profile.
(screenshots needed)
Here are the read-post-specific aspects that are interesting - these are all purely textual approximations / wire-frames. Screenshots welcome!

(avatar) Person-Name made progress with a book on Goodreads.
(large photo of book cover)
Name of Book
Just started reading


(avatar) Person-Name made progress with a book on Goodreads.
(large photo of book cover)
Name of Book
On 300 of 416 pages


(avatar) Person-Name reviewed Name of Book on Goodreads.
(small photo of book cover) Name of Book

Specifically the reporting of page # and # of pages total may help inform plain text design brainstorming.
Facebook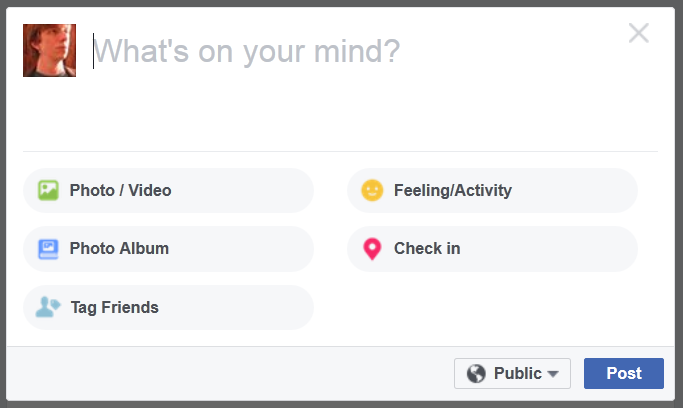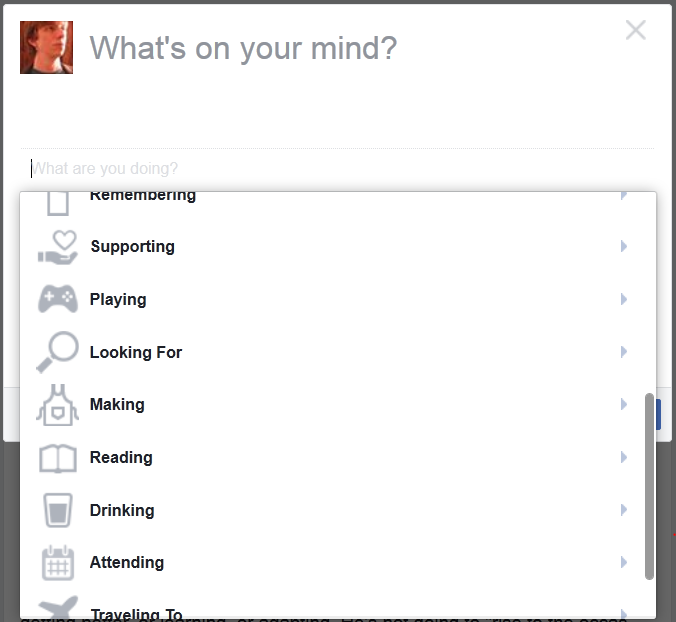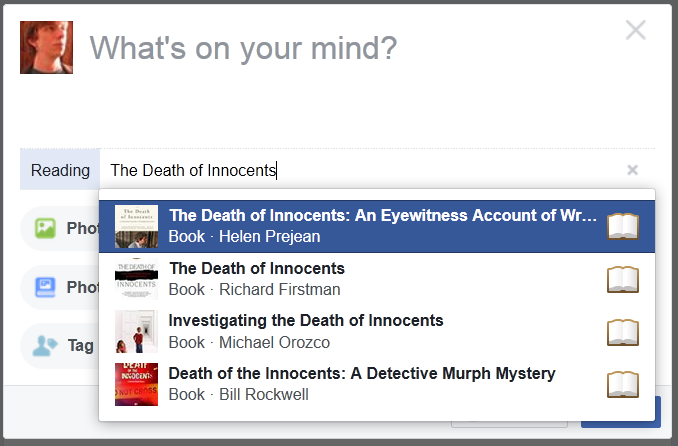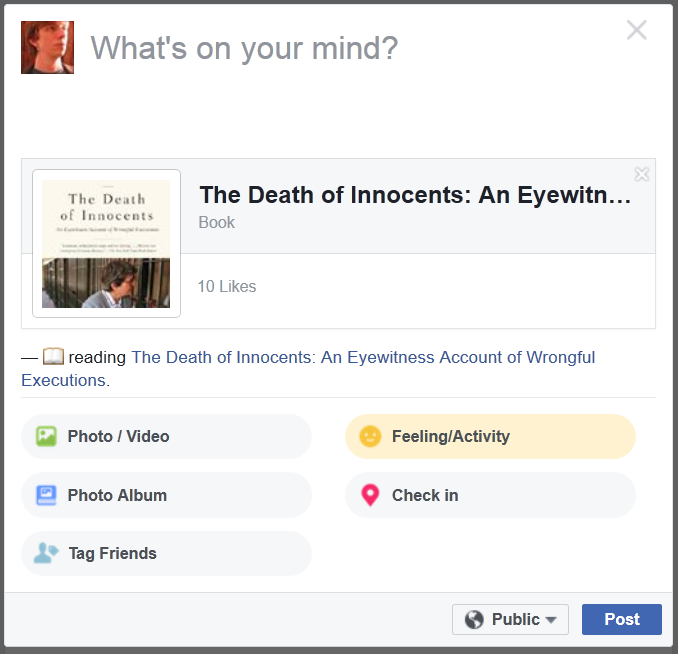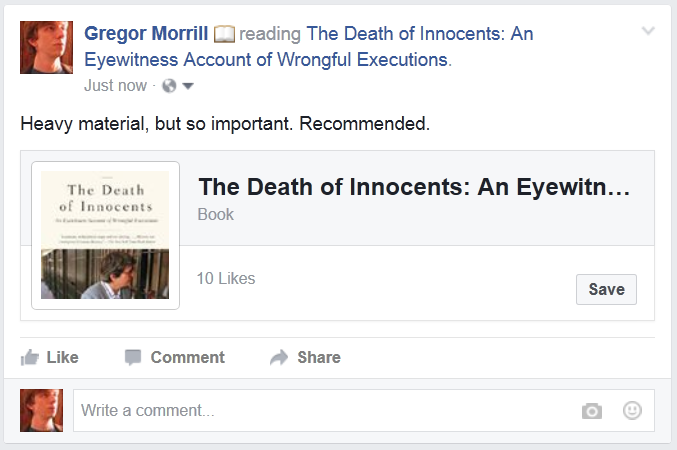 Twitter
Twitter does not have any explicit "reading" activity or post, however people post tweets that resemble "read" posts, e.g.:
Articles
Articles about reading on the web:
See Also