2011
Jump to navigation
Jump to search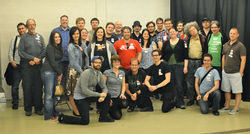 IndieWebCamp 2011 was the first IndieWebCamp Summit held 2011-06-25…26 in Portland.
IndieWebCamp 2011 was on and immediately following OSBridge 2011 on June 21-24. See 2011 Planning for how we made it happen. Check out the amazing Demos that were worked on in Day 2 of IndieWebCamp 2011.
Sponsors
IndieWebCamp thanks the following 2011 sponsors:
Urban Airship

The Urban Airship platform is the engagement and monetization engine behind thousands of the world's most successful mobile apps.
Urban Airship provided the venue.

Tropo

Tropo is a powerful yet simple API that adds Voice, SMS, Twitter, and IM support to the programming languages you already know.
Tropo provided coffee and many miscellaneous expenses.

Open Source Bridge

Open Source Bridge is a conference in Portland, Oregon for developers working with open source technologies and for people interested in learning the open source way.
Open Source Bridge provided some food.

Wieden+Kennedy

Wieden+Kennedy is a full-service, creatively driven advertising agency based in Portland.
Wieden+Kennedy provided lunch.
See Also