2014/SF
Jump to navigation
Jump to search
IndieWebCampSF 2014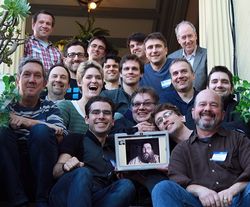 The very first IndieWebCamp in San Francisco - one of many IndieWeb events.
Own your data.
Rather than posting content on third-party silos of content, we should all own the content we're creating. Publish on your own domain, and syndicate out to silos.
Join us in San Francisco at Embassy Network for two days of a BarCamp-style gathering of web creators building and sharing open web technologies to empower users to own their own identities & content, and advance the state of the indie web.
Organizers
Participating
Sponsors
Our thanks to these sponsors for supporting the event.
Bridgy

Bridgy is an open source project and proxy that implements backfeed as a service. Bridgy sends webmentions for comments, likes, etc. on Facebook, Twitter, Google+, and Instagram.

idno.

idno. is a flexible, IndieWeb-compatible platform for building personal and community sites.

Google

Google

Mozilla

Mozilla

p3k

p3k
Sessions
Individual Session wiki pages - Day 1
Individual Session wiki pages - Day 2
Schedule
Day 1
Tentative:
09:00 organizer setup
09:30 doors open - badges
10:00 introductions and demos
11:00 sessions
13:00 lunch
14:00 sessions
17:00 group photo
17:15 last session
18:00 end of sessions for day 1
Day 2
Tentative:
09:00 organizer setup
09:30 doors open - badges
10:00 day 2 kick-off
11:00 hack sessions
16:30 demos
17:30 clean-up
18:00 camp closed!
Articles
Articles and blog posts about IndieWebCamp SF:
Photos


RSVP
Guest List - click and add yourself (and optionally an apprentice)
Get Your Flights and Hotel
Flights: If you're flying from the SF/Bay Area to Portland (PDX), Alaska, Southwest, and Virgin America are recommended and have frequent flights to PDX.
Lodging:
See Also