2012
Jump to navigation
Jump to search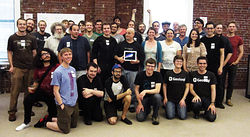 IndieWebCamp 2012 was the second IndieWebCamp Summit held 2012-06-30…2012-07-01 in Portland.
Event

IndieWebCamp 2012

When

-

Where
Posts About
Blog posts about IndieWebCamp 2012 - please feel free to add yours!
RSVP
Guest List - add yourself (and optionally an apprentice)
Also consider signing up for Open Source Bridge, June 26-29, 2012 also in Portland.
Participating
etherpad index: http://etherpad.mozilla.org/indiewebcamp
See buttons and put one your blog/site sidebar for IndieWebCamp 2012!
Help Out
sponsors
IndieWebCamp thanks the following 2012 sponsors:
StatusNet

StatusNet's private and secure Enterprise Social Network enables your teams to collaborate, share insights, solve problems and build relationships in real time.
StatusNet provided lunch on Sunday.

Mozilla

Our mission is to promote openness, innovation and opportunity on the Internet. We are making the Web better for you.
Mozilla provided morning coffee for both days.

Urban Airship

The Urban Airship platform is the engagement and monetization engine behind thousands of the world's most successful mobile apps.
Urban Airship provided beer, fruit and snacks for both days.

Geoloqi

Geoloqi makes it easy to add location to your applications.
Geoloqi provided the venue and breakfast on Saturday morning.
to-do
This is our unordered "to-do" (GTD next-actions) list for IndieWebCamp 2012. Strike and sign done items and move them to the done section.
(done)
See the overall to-do page for IndieWebCamp.com in general.
done
Visual Suggestion: remove body { background-color: #CCC; } and replace it with a white background - to open up space and make it look less like a table-based web site. Done. Funny how aesthetics change over time! Aaronparecki.com 22:51, 20 May 2012 (PDT)
Remove the separation of 2011 sponsors and 2012 sponsors on left sidebar
Add dates to the homepage! Header would probably be the best area. e.g.:
June 30, 2012 - July 1, 2012 2012-07-01, daily schedule TBD.
Combine Sponsorships into 1 section - use Title Sponsorship. Previous sponsors will feel good about sponsoring. Most of the sponsors want Media Sponsorships, so this will make them feel good.
Create 2012/Schedule
Redirect [[Schedule]] to 2012/Schedule
Other Activities
Other Activities to check out in Portland before / after IndieWebCamp
See Also
To-do - general IndieWebCamp to-do items