2015/Edinburgh
Jump to navigation
Jump to search
IndieWebCamp Edinburgh 2015
The first IndieWebCamp in Edinburgh, but just one of many IndieWebCamps!
The importance of owning your data is getting more awareness. To grow it and help people gettings started, we're meeting for a bar-camp like collaboration in Edinburgh for two days of brainstorming, working, teaching, helping.
Join us in Edinburgh and learn how to use open web technologies to empower and – maybe more importantly – encourage users to own their own content and identities.
RSVP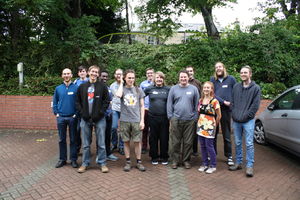 The canonical signup for this event is the wiki Guest List page. To add yourself, you need to:
Schedule
Day 1: Discussions
Day 2: Hacking


10:00 Doors open - Registration, breakfast
10:30 Introductions and demos
11:30 Create the schedule
11:45 Sessions
13:15 Lunch
14:15 Sessions
16:30 Group photo
16:45 Last session
17:30 End of sessions for day 1
... self-organised group dinner and drinks


10:00 Day 2 kick-off, breakfast
10:45 Hack sessions
13:15 Lunch
14:15 Hack sessions continue
16:30 Demos
17:30 Camp closed
... to the Auld Hoose for nachos!


Day 1 is about discussing in a BarCamp-like environment. Bring a topic you'd like to discuss or join in on topics as they are added to the board.


Day 2 is about implementing what we discussed. Work with others or on your own. We'll have demos at the end of the day to see what everyone worked on!
Day 1: Saturday
IndieWebCamp Day 1: Sessions
Video Sessions - ▶️4:59:54s
Day 2: Sunday
IndieWebCamp Day 2: Back Day
Participating
Individual Session wiki pages
Sponsors
We're grateful for the support of Matrix - the ambitious new open standard for distributed, real-time communication, interoperable Instant Messaging and VoIP - who are supporting two days of breakfast and snacks!
Thanks to NCR Edinburgh for hosting us and providing two days of lunch and use of their coffee machines!
And thanks for additional support from Esri and NLNet!
Co-located events
Organizers
Organizers: Amy Guy, Harry Reeder, and James Baster

Want to help organize? Get in touch with us on IRC!

Want to help out?

Contact an organizer!
Check the #To-do list below to see if there's something you can help out with.
To-do
Organisational tasks
Setup wiki pages (Introductions, Demos, complete schedule etc.)
Set up Facebook event
Find someone to support remote participation
Questions for Organizers
Add your questions below
Inbox
Put suggestions for IWC Edinburgh 2015 here.
See Also