2017/Düsseldorf
From IndieWeb
IndieWebCamp Düsseldorf 2017
The third IndieWebCamp in Düsseldorf, but just one of many IndieWebCamps!
The importance of owning your data is getting more awareness every year. But there is still a lot of work to do to help people to understand what the IndieWeb is and "owning your data" actually means at all. To achieve this, to grow it and to help people getting started, we're meeting for a bar-camp like collaboration in Düsseldorf for two days of brainstorming, working, collaborating, teaching, helping and much more.
Join us during beyond tellerrand in Düsseldorf and learn how to use open web technologies to empower and – maybe most importantly – encourage everybody to own their own content and identities.
Food and drinks during the whole IndieWebCamp available and sponsored by sipgate.
When:

through

at

Where:

sipgate

,

Gladbacher Str. 74

,

40219

Düsseldorf

,

Germany

.
Cost: Free
RSVP
Other URL(s) (for convenience only - to attend you must register, as we need the final numbers for planning food and drinks)
Schedule
Day 1: Discussions
Day 2: Hacking


09:00 Organizer setup
09:30 Doors Open - Breakfast
10:00 Introductions and Demos
11:45 Sessions
12:30 Group Photo & Lunch (provided)
13:15 Sessions
18:00 End of sessions for Day 1


09:00 Organizer setup
09:30 Doors open - badges
10:00 Day 2 kick-off
10:15 Hack sessions
12:45 Lunch (provided)
14:00 Hack sessions continue
16:00 Demos
16:45 Clean-up
17:00 Camp closed – free pre-conference warm-up party for btconf


Day 1 is about discussing in a BarCamp-like environment. Bring a topic you'd like to discuss or join in on topics as they are added to the board.


Day 2 is about implementing what we discussed. Work with others or on your own. We'll have demos at the end of the day to see what everyone worked on!
Livestream
We will be livestreaming the introductions and demo sessions! When there is a live stream available, it will be listed at https://www.youtube.com/indiewebcamp
Participating
Individual Session wiki pages
Sponsors
Venue and catering sponsor

sipgate, sipgate is providing the venue as well as food and drinks during the two days for the third year in a row.
sipgate creates digital services in and beyond the context of telephony. With hundreds of thousands of customers in Germany and the United Kingdom, sipgate is one of the biggest VoIP telephony providers in Europe.
Travel sponsor

beyond tellerrand is covering all travel and hotel cost for the organisers of the IndieWebCamp Düsseldorf again.
beyond tellerrand organise community events for web and design enthusiasts.
Want to become a sponsor?
We are currently looking for sponsors for this event and future events.'''
If you're interested, please see How to sponsor IndieWebCamp or ping
Marc Thiele via email or Twitter to discuss opportunities and options.
Organizers
Notes/Tasks
Organzational tasks
Setup wiki pages (Introductions, Demos, complete schedule etc.)
Questions for Organizers
Add your questions below
Inbox
Put suggestions for Indie Web Camp Düsseldorf 2017 here.
Photos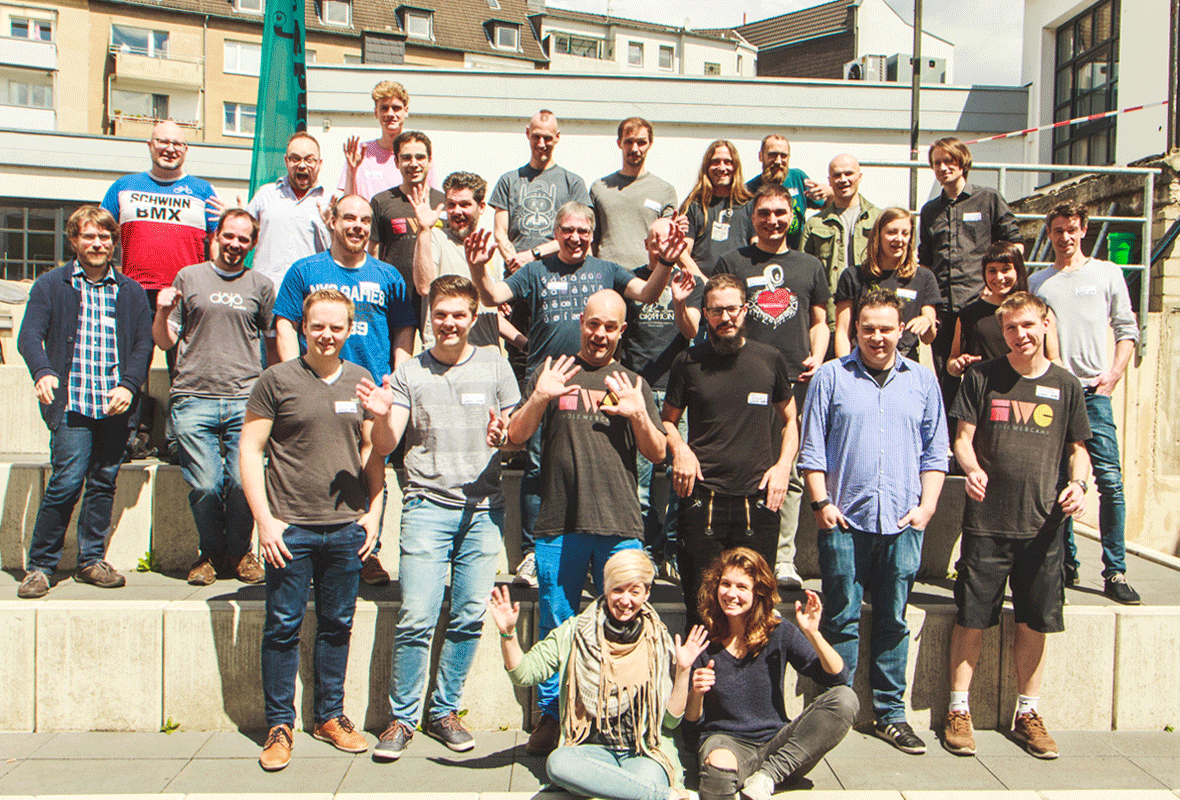 See Also