2019/Online
From IndieWeb
💻
IndieWebCamp Online 2019
IndieWebCamp Online 2019 was the second virtual camp, -.
Summary
IndieWebCamp Online was a two-ish day online / hybrid event (some Homebrew Website Clubs may choose to gather in person locally) where participants created, hacked, and demoed personal websites, learned about IndieWeb, connected with creatives, and helped build a people first alternative to the corporate web.
Where: Online.
When: -
How: With a variety of synchronous and asynchronous technologies.
RSVP
Register and RSVP to https://2019.indieweb.org/online!
After Registering and RSVPing, there are a couple things you can do before the event:
Use the Session Planning page to propose sessions you would like to host or add your own +1 to existing proposed sessions and their time slots.
You can also use Project Goals to indicate goals and project interests you have for IndieWebCamp Online!
Want help joining the wiki or chat or need help learning some remote tools. Drop by chat and and ask for help

See 2019/Online/Planning for latest planning details and progress.
Participating
Technology
We will use the following tools. Please check back here soon for links,
wiki All session grids and schedules will be listed
Etherpad- All sessions will have an etherpad
IndieWeb chat - there are a variety of methods/ways to access the various chat channels on the wiki.
Audio/Video - all sessions will be held using audio/video conferencing with an audio-only mode for those that don't want to participate in video. Sessions will be held on Google Hangouts with livestreaming on YouTube for those who don't want to be recorded.
Schedule
How to Propose Sessions
We will use this etherpad for proposing sessions and later creating the session grid on the wiki
To propose a session you will fill out the etherpad, a sample is provided, just before 21:00 UTC on March 8 the sessions with at least 2 people and a final time slot will be moved to the wiki as part of the Schedule Grid
The sessions can take place anytime between 21:00 UTC on March 8 and 20:00 UTC on March 9. The finalized Session Grid will contain all session times in UTC time.
We will also allow for impromptu sessions
Example Session Planning
Topic: Displaying webmentions
Audience: (General or Developers)
Facilitator name
Proposed Timeslots

Please put a +1 to times you can make
12-1
1-2
2-3
3-4

Final Time Slot
Session Hashtag for Etherpad and Jitsi
How to Sign Up for a Session
Look at the sessions that interest you
Convert the time zone from the facilitator to you
Mark down any time slots you can attend
The facilitator will choose the hour slot with the most attendees available
Photos
Day 1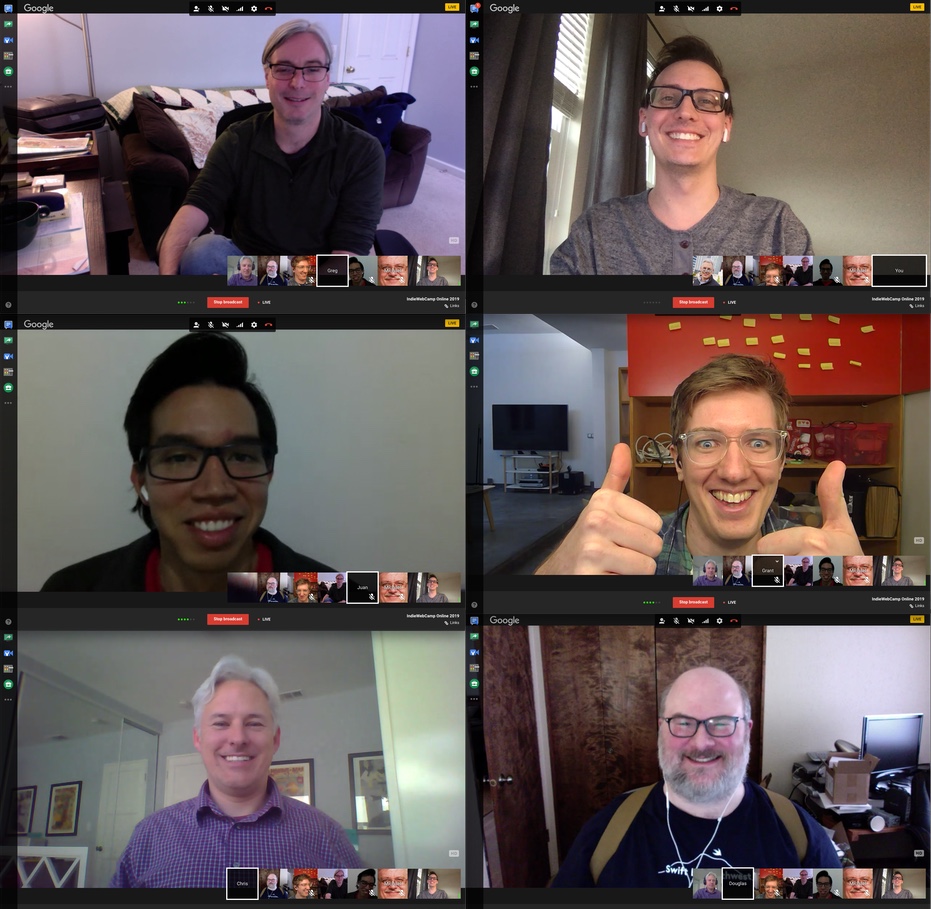 Day 2
Add Photos from Day 2 here
Posts about
Previously
See Also